Change is hard…. I really do not want to change!! Whether it is large-scale and organizational or small-scale and personal, change can be poorly tolerated by even the most invested members of a team. As healthcare institutions and health professions education workplace cultures adapt to a fast-paced world, looking towards the business literature can be quite instructive. Consider thinking about Kotter's dual operating system—a management-driven hierarchy working in concert with a strategy network to help consider the change management process in your workplace.
As a leader, you may be comfortable with a top-driven approach (the 'hierarchy'). However, do not discount the power of the 'network' to make meaningful and strategic connections both within and across multiple teams.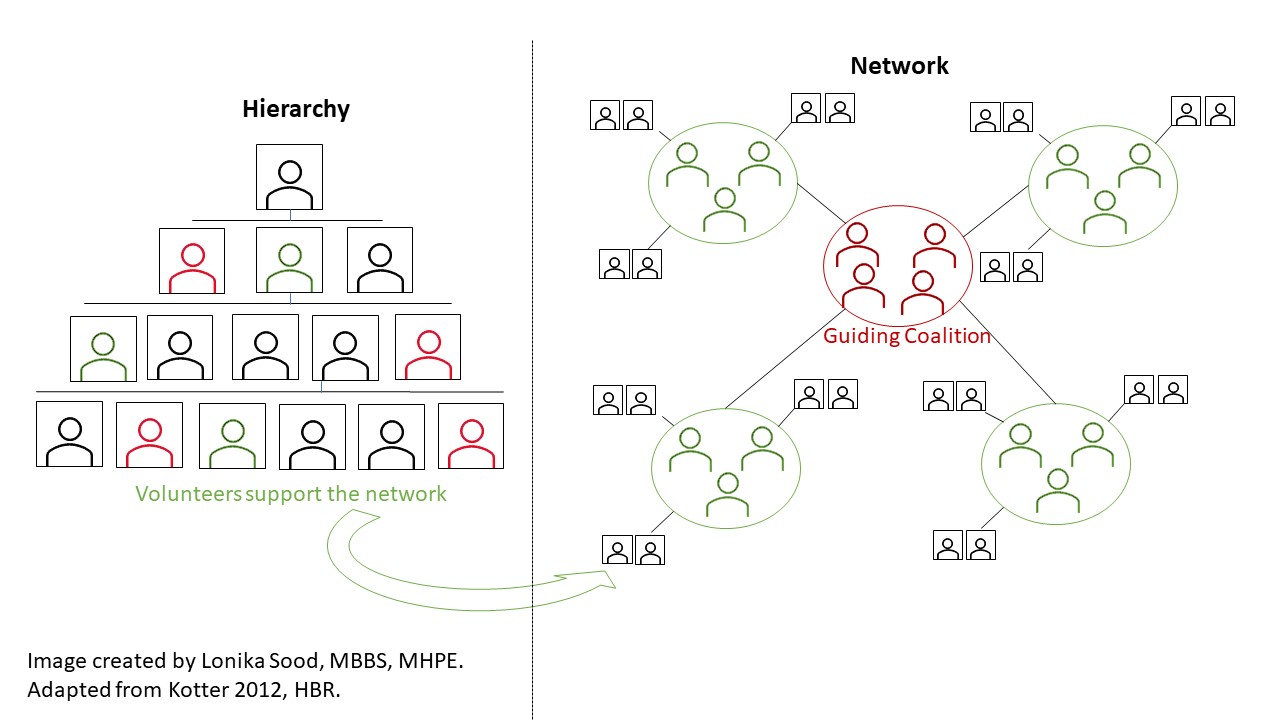 Your guiding coalition is at the center of this network. These are a group of committed people that will help to guide, coordinate, and communicate activities to small teams. In parallel to your traditional hierarchy, consider these members of your guiding coalition as well as volunteers within smaller teams as your allies. As an example, consider that you are the course director for a longitudinal component within your school's curriculum. You have made major changes to it and anticipate some resistance from colleagues, administration, and learners. You have a well identified hierarchy at your institution. Create your guiding coalition by inviting individuals who are likely to champion this change. Center this group in your network to help communicate, coordinate, and cheerlead change across the affected teams. In this work, it is important to remember these five principles:
Many change agents: Include a few members from each stakeholder group to help disseminate and socialize the ideas and process of change to the central 'guiding coalition.'
A 'want-to' and a 'get-to' mind-set: Similar to a community of practice, the change agents can serve to energize the work within their own teams while bringing ideas to the 'guiding coalition.'
Head and heart, not just head: In addition to being strategic with logic, including key stakeholders as change agents helps them find purpose and meaning in the work and allay anxiety associated with uncertainty.
More leadership, not just more management: Leading the 'guiding coalition' with vision will aid them in not only tackling the 'what' (through project management), but also the 'why' and the 'so what.'
Two systems, one organization: Establishing systems that allow for a constant flow of information and activity between the 'network' and the 'hierarchy.'
How might you consider Kotter's dual operating system for your next project? Share this on the #MedEdPearls Twitter discussion!
#MedEdPearls are developed monthly by the Health Professions Educator Developers on Educational Affairs. Previously, #MedEdPearls explored topics including optimizing the clinical learning environment, what happens after medical errors, and performance reviews reconsidered.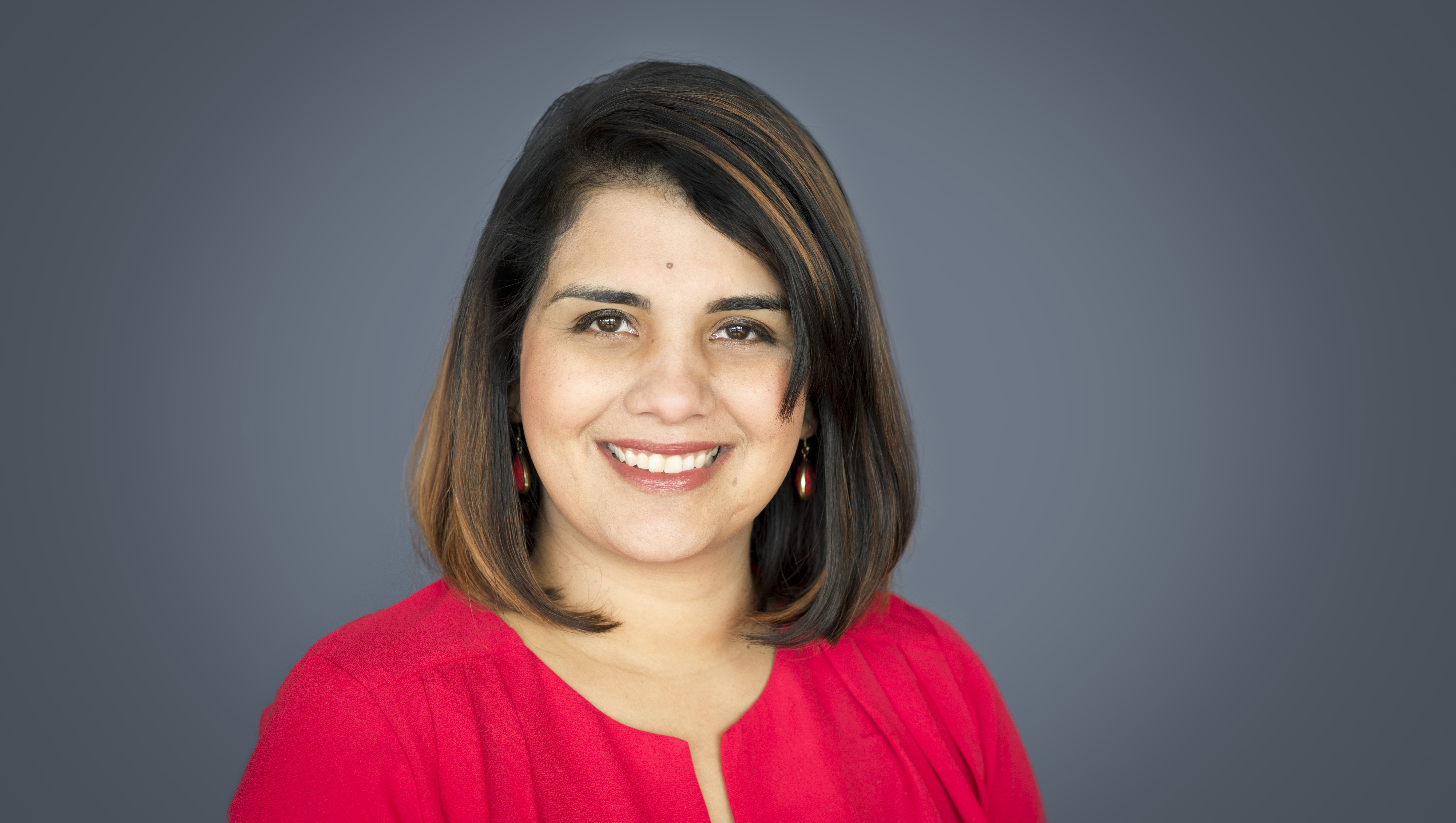 Lonika Sood, MBBS MHPE is a Medical Educator and Internal Medicine physician. Lonika is currently the Clinical Education Director for Internal Medicine and acting Associate Dean for Graduate Medical Education at the Elson S. Floyd College of Medicine at Washington State University. Her areas of professional interest include curriculum design and organizational leadership. Lonika can be followed on Twitter or LinkedIn.
#MedEdPearls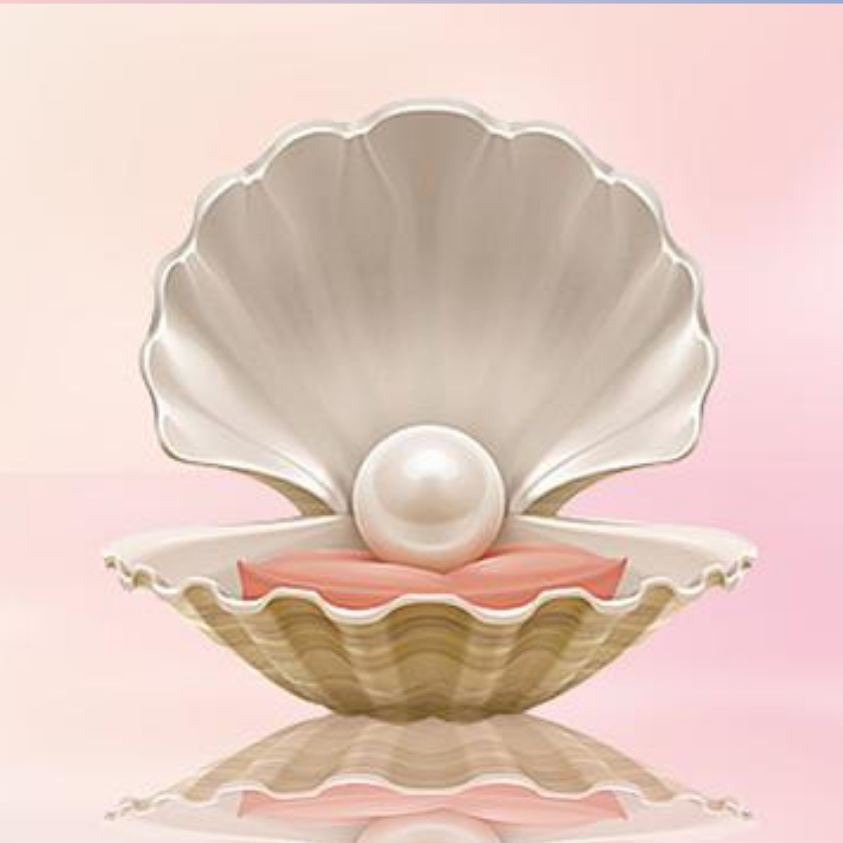 #MedEdPearls Team:
Jean Bailey, PhD – Virginia Commonwealth University School of Medicine
Carrie Bowler, EdD, MS, MLSCM (ASCP) – Mayo Clinic
Kristina Dzara, PhD, MMSc (Educators '16; Assessment '16; HCE 2.0 '17) – Saint Louis University School of Medicine
Shanu Gupta, MD – University of South Florida and Tampa General Hospital
Jennifer Hillyer, PhD – Northeast Ohio Medical University College of Medicine
Larry Hurtubise, PhD (HCE 2.0 '16) – The Ohio State University
Anna Lama, EdD – West Virginia School of Medicine
Machelle Linsenmeyer, EdD, NAOME (Assessment '07) – West Virginia School of Osteopathic Medicine
Rachel Moquin, EdD, MA – Washington University School of Medicine in St. Louis
Stacey Pylman, PhD – Michigan State University College of Human Medicine
Leah Sheridan, PhD – The Ohio University Heritage College of Osteopathic Medicine
Lonika Sood, MBBS, MHPE – Elson S. Floyd College of Medicine, Washington State University
Mark Terrell, EdD – Lake Erie College of Osteopathic Medicine
Stacey Wahl, PhD – Virginia Commonwealth University School of Medicine