A Systems Approach to Assessment in Health Professions Education
(Offered Annually)
2024 Course:
April 7-12, 2024
Upon completion of this online course, participants will be able to:


Assess the educational components of participants home institution from a systems perspective
Identify the primary functions of individual educational components of their system
Identify the essential processes that need to occur at the interfaces between/among components within the educational system to add value to the competencies of their of graduates
Outline the communications pathways that currently exist within the educational (sub) system
Examine the quality of their institution's communication pathways, specifically for 1) the flow of multiple sources of performance data to individuals/groups (hubs) best positioned to interpret assessment information in context and 2) the existence of direct feedback pathways to individuals/groups empowered to make corrections and adjustments
Design and implement a comprehensive systems-based assessment program to evaluate their institutions institution's performance in promoting a primary educational goal
The Harvard Macy Institute's highly interactive virtual, A Systems Approach to Assessment in Health Professions Education course, is designed to encourage participants to apply systems thinking in designing assessment programs to support the continuous quality improvement of students/trainees, faculty, and curricula at their academic health science institutions. The program incorporates multiple pedagogical methods, including interactive presentations, case discussions, small group journal clubs, institutional planning groups, selectives (focused mini-sessions/workshops on assessment tools and approaches), and consultations with faculty experts. During this intensive 5-day online program, educators and administrators from diverse health science disciplines will be introduced to key concepts from system theory, best practices in educational assessment, and mini-workshops focused on specific assessment approaches. Throughout the program, participants will also have an opportunity to apply systems principles in case discussions depicting problematic assessment situations and to plan an assessment/evaluation design to implement at their home institution.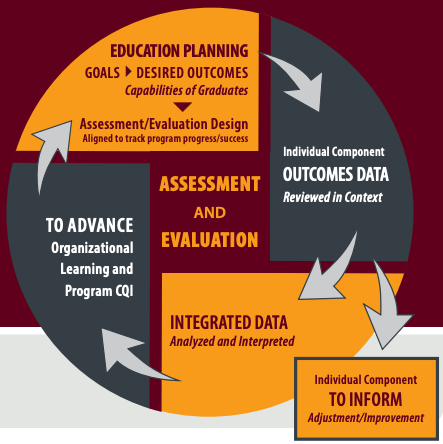 2024 Accreditation Information Not Available



Connie Bowe, MD
Founding Course Director Emeritus
Eric Holmboe, MD
Senior Vice-president for Milestones Development and Evaluation
Accreditation Council for Graduate Medical Education
Chicago, Illinois
Brent Thoma, MD, MA
Associate Professor, Emergency Medicine
University of Saskatchewan
Saskatoon, Saskatchewan, Canada
Mark Grichanik, PhD
Director of Program Evaluation, David Geffen School of Medicine at UCLA
Alice Fornari, Ed.D, FAMEE, RDN, HEC-C
Assistant Vice President of Faculty Development,
Northwell Health
Associate Dean of Educational Skills Development, Donald and Barbara Zucker School of Mediicne at Hofstra/Northwell
Great Neck, New York
Other Courses