Medical and nursing schools have a long history of engaging students in community service projects and teaching them to keep an eye toward excellence. However, over the last few years, there has been a shift from a focus on individual level care to a focus on population health. This shift is partially due to payment model changes related to value-based care, an expanded understanding how social drivers of health impact the wellbeing of the people health systems cares for, and a realization of how health inequities exist because of these factors. Health systems are now developing executive strategies to demonstrate community benefit, impact health inequities, and improve healthcare access and outcomes in communities that have been historically underserved. To achieve these goals, health systems will need to implement enterprise-wide strategies to engage communities and build longstanding partnerships in a meaningful way. After all, the health challenges that communities face are best understood by the residents of those communities; many population level solutions require the expertise of both community and health system representatives.
Community engagement is defined broadly as the application of institutional resources to help solve challenges in collaboration with communities. Strategies of community engagement can include community-based service learning, health care delivery strategies, or community-engaged research. Achieving health equity will require breaking down silos and building relationships to inform and facilitate bold innovative solutions and structural investments for whole-person care. Community engagement is an important part of addressing population health. Wallerstein and Duran explain that community engagement requires bidirectional communication, as opposed to community outreach, and focuses on: a) Problem identification- providing input and understanding on key problems to be addressed, b) Design and planning- helping to shape health program aims and objectives, providing feedback on program goals, and contributing insights into provision of culturally appropriate care and c) Implementation- participating in design of the intervention, both formally and informally.
There is an opportunity for academic health institutions to adopt community-engaged methods across the spectrum of education, including in research, clinical care missions, and education. However, many programs have not historically valued community engagement on this level. For educational programs to support a community-engaged focus, it is important for understand how community engagement can benefit these aspects of clinical education as well as communities. Community engagement ensures that learner service aligns with community needs, helps develop interprofessional competencies, develops collaboration and engagement skills, and exposes learners to the social aspects that impact care in communities. Learners can also benefit by helping with data collection for partner community organizations, which increases awareness of local health improvement initiatives and offers opportunities to participate in co-designing health related interventions.
Community-engaged work requires long-term commitments, of both communities and the health care organization. Health programs that have successfully integrated community engagement into their programs tend to have a central infrastructure, whose primary goal is to provide institutional resources, supporting meaningful community engagement. This infrastructure helps institutions build long term relationships, leading to community-engaged research, educational, and care delivery opportunities. This program can be in the form of a Program in Community Engaged Research program and can serve as the "connective tissue" laying out vision for engagement, provide mentorship, help to reduce redundancies, and help to include crucial community partners at the table.
As academic medical centers are increasingly engaging in community-engaged work and research, rich opportunities to work closely with communities are emerging for medical and nursing students. I have had the opportunity to work closely with medical and nursing students as a clinician-researcher, through implementing a fresh food prescription program and evaluating the program's impacts. Students worked with our team to engage with our community partners, helped to track impacts of the program on food insecurity, monitored participant health outcomes over time, and helped educate participants on healthy eating practices. Additionally, they learned about culturally humble approaches to addressing food insecurity and health disparities. Students have also grown their skills further by helping to disseminate outcomes and learnings from the food prescription program through institutional and conference presentations as well as published manuscripts. These opportunities help students to participate with communities in processes of discovery that will benefit their own practices, patients, and population. This also provides students with experiences and skills that help them to be better prepared to care for all types of populations, learn to translate findings in ways that are relevant and practical for the patients they serve, and hopefully lead future health care providers to work beside communities, providing the best care for all.
Did you know that the Harvard Macy Institute Community Blog has had more than 325 posts? Previous blog posts have explored topics including lessons from a mobile classroom pilot, how to evaluate teaching effectiveness, and tik tok for celiac disease and gluten-free diet education.
Rachel Zimmer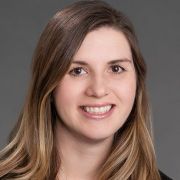 Rachel Zimmer, DNP, AGPCNP-C (Leaders '21) holds a position as an Assistant Professor of Gerontology at Atrium Health Wake Forest Baptist. Rachel's professional interests include the care of homebound older adults, addressing social drivers of health, and community based participatory research. Rachel can be followed on Twitter and LinkedIn.