Adolescents with celiac disease are always seeking new and innovative ways to learn about the gluten-free diet and manage the social and emotional elements of living with this chronic disease. Prior to the COVID-19 pandemic, the Boston Children's Hospital Gluten-Free Diet Education Class for patients with newly diagnosed celiac disease was held in-person in a clinic conference room with approximately 2 to 5 families attending each class. The classes are 90 minutes and highly interactive with a skilled dietitian. When the COVID-19 pandemic struck, all nutrition education classes for celiac disease were quickly transitioned to a virtual zoom format.
The virtual format allowed for higher enrollment, which meant shorter wait times to get into the class. Zoom also removed barriers like long commutes and high parking fees, which previously prevented some families from attending the classes. However, some adolescents who attended remote school for most of the day reported it was challenging to sit for another 90 minutes in front of the screen and wanted new and fun ways to learn. Their specific ask: TikTok.
TikTok is a social app with more than 1 billion users worldwide that allows users to post videos up to three minutes long. Individuals with large followings on TikTok range from school-aged children to parents and medical professionals. Many doctors and nurses have joined TikTok to share entertaining and educational content, which has helped spread awareness around certain health care topics. Our Teen Council felt that TikTok would allow for the sharing of factual medical information about celiac disease in an approachable and engaging way. They also thought that building a TikTok account would help get accurate information about celiac disease and the gluten-free diet onto the platform.
The Boston Children's Hospital Celiac Kids Connection patient and family support group formed a Teen Advisory Council that included eight patients ranging in age from 12 to 18. The goal of the Council was to provide feedback on how the hospital program could supplement information about celiac disease and the gluten-free diet in a creative new way. Unanimously, they agreed that TikTok was the way they wanted to get information.
Serendipitously, the Boston Children's Hospital Marketing team was looking to pilot TikTok for engagement with patients. Together, we launched our @BostonChildrensCeliac account and developed parameters for an educationally focused TikTok account. After the marketing team obtained sign-off from the Chief Marketing Officer, we went live with the account and to date, have had great success. During the first two months, we posted 42 original videos with facts about celiac disease, diagnosis with endoscopy, gluten-free diet information, label reading tips, and cooking demonstrations. The videos feature several different team members including physicians, nurses, dietitians, educators, social workers, and community advocates through the patient support group. These 42 videos have received more than 123,000 views and our patients and many parents have anecdotally expressed their excitement for watching the fun content.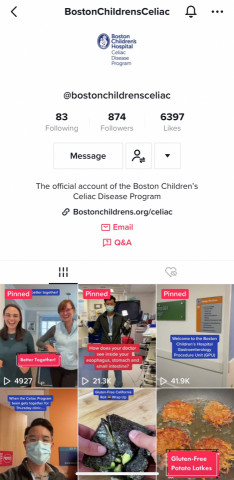 Additionally, our legal and marketing teams developed a consent process to allow adolescents to contribute content to the TikTok channel. The consent process involves the parent or guardian signing a standard consent form allowing their child to create or appear in a TikTok video. The content is reviewed by the hospital team prior to posting the video.
Some future proposed topics include videos on setting up a gluten-free college dorm room, eating in a college dining hall, dining out with friends, talking about celiac disease with peers, and sharing personal stories using the #MyCeliacStory hashtag.
There is a widespread trend towards microlearning to take complex health information and translate it into easy-to-understand, engaging content. TikTok is a great example of microlearning for patient and family education.
Did you know that the Harvard Macy Institute Community Blog has had more than 300 posts? Previous blog posts have explored topics including digital presence, twitter for health professions educators, and glocalization.
Vanessa M Weisbrod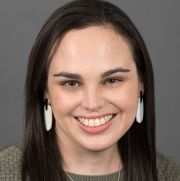 Vanessa Weisbrod, BA, CA, (Educators '21) is the Director of Education for the Celiac Disease Program at Boston Children's Hospital. Vanessa's areas of professional interest include developing innovative approaches to patient and family education, designing quality improvement projects to evaluate patient education programs in the hospital setting, and improving gluten-free diet adherence among food insecure families with celiac disease. Vanessa can be followed on Twitter or LinkedIn contacted via email.