As an undergraduate student at Louisiana State University, I was acknowledged for outstanding humanitarian services in the tradition of Dr. Martin Luther King, Jr., which encouraged me to continue to work towards supporting, motivating and encouraging others to pursue their dreams and careers.
---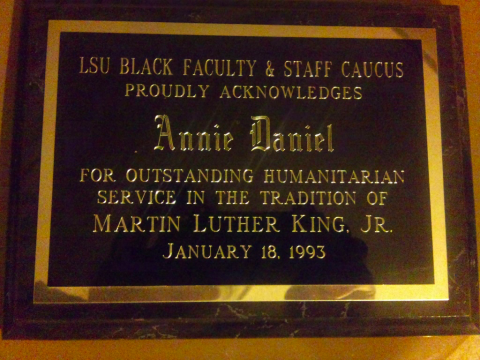 As a graduate student, I enrolled in a required course entitled, "Time Management." I was a little disturbed at having to take such a course with all of the more important courses I felt I should spend my time completing. However, this course turned out to me the most impactful courses I have ever taken. I thought the course would teach me how to manage my time to be a more effective student and future professional. Additionally, I devoted the semester to reading and applying information about the type of legacy I would leave and how I would impact the people in my life and the world around me. I would spend hours thinking about the different roles I possess, such as a sister, a daughter, a mother, and an aunt.
Our assignments and class discussions were always so rich and reflective. We had to ponder what we want our legacy to be and think strategically how we could accomplish these goals. For many years I grappled with my legacy, until 2014 when I made a career change in order to move back to Louisiana from Iowa where I was employed at the university level as the Director for the Center for Improving Teaching and Learning at Des Moines University. My new position in at the Louisiana State University School of Veterinary Medicine opened up new opportunities for me to work with diversity and inclusion efforts for the School of Veterinary Medicine and the profession as a whole.
I realized that the work I was about to embark upon would be the legacy I had been grappling to find. I created a nonprofit institute, the Institute for Healthcare Education Leadership and Professionals (iHELP) to work with supporting diversity and inclusion efforts in healthcare. The first iHELP initiative is the creation of the National Association for Black Veterinarians (NABV). The purpose of the organization is to work collaboratively with other organizations to support and ensure research-based methods are implemented to increase diversity and inclusion in the veterinary medical profession and in colleges of veterinary medicine. The charter president (Dr. Renita Marshall) and Vice President (Dr. Tyra Brown) were featured in an article that discusses the lack of diversity in the profession which speaks volumes about the need to increase the number of Black people in veterinary medicine.
...