When the hospital world abruptly moved from auditoriums and conference rooms to Zoom rooms, I disliked everything about the new technology. I struggled to get the links to open, my headphones working, and my microphone muted at the right times. Teaching on Zoom was the worst! Showing up to teach to a large group, all learners with their cameras off, was like talking into a black hole. Were they even there? Was I talking too fast or too slow? What was the point of it all?
But then a question would pop up in the chat box, followed by another. Sometimes learners would even respond to my attempts to engage the group! On many Thursday afternoons I teach the fellows like always, and I notice that the chat function helps the quieter learners speak up. As a person who has always been nervous about speaking, especially in large groups, it turns out it is much easier to put my thoughts and questions into written words and chat them to the group as a way to start than to raise my hand and talk. Asking all the learners to share their answer in the chat box gives me a way to engage the whole group, not just the most extroverted and confident few. While there do not seem to be any large studies examining chat as a way to engage quiet students, others have noted this phenomenon both in medical education and in other scientific discipline teaching. There is also a solid body of literature showing that when educators pause for 3-5 seconds after asking a question, learner engagement increases.
Virtual teaching has given me the opportunity to be thoughtful about engaging the whole group, not just the loudest, fastest responders. One strategy I found particularly effective as a learner during the Harvard Macy Institute Program for Educators in Health Professions is the "Zoom Waterfall": ask a question, then ask all participants to type an answer in the chat box, but not hit send until instructed. Having the time to pause and think before someone jumps in with a verbal answer made me feel more engaged in the material, and it was exciting to see the range of responses from a huge group flash by. As I continue to develop skills to keep a virtual classroom engaged, I am excited to try this out.
What virtual teaching strategies have you found helpful to encourage quiet learners to participate? Comment below and join the conversation.
Did you know that the Harvard Macy Institute Community Blog has had more than 295 posts? Previous blog posts have explored topics including designing programmatic assessment structures to support learning, engaging students virtually, and being together, when apart.
Mollie A Biewald MD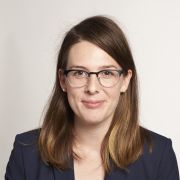 Mollie Biewald, MD (Educators, '21) is a medical educator and palliative care physician. Mollie is currently Associate Program Director in the Hospice and Palliative Medicine fellowship at the Icahn School of Medicine at Mount Sinai. Mollie's areas of professional interest include teaching communication and pain management.  Mollie can be followed on Twitter or contacted via email.