To My Dear HMI Colleagues,
In 1994, the Dean of the Harvard Medical School, Daniel C. Tosteson, asked me to submit a grant to the Josiah Macy Jr. Foundation to advance medical education. With no more guidance than that, from a truly visionary dean, I set about writing a four-page grant over what is known as Labor Day weekend in the USA. Having been immersed in curriculum reform at Harvard since 1984 I was aware of the extraordinary demands on clinical faculty and the desire of many clinician educators to learn more about curriculum design and pedagogy. Over that three day weekend the first two courses of the Harvard Macy Institute (HMI) were created on paper. You all made them happen and have helped us improve and enrich them over the ensuing nearly three decades.
Those two inaugural courses, the Educator and Leaders courses, and all the courses developed since were driven by principles that guide all of our offerings and activities to this day. First and foremost, we are committed to creating a community of learners willing to meaningfully engage in new ideas with the freedom to express a diverse range of opinions, assumptions and values. We welcome an interdisciplinary and international set of scholars each year, offering us a far broader perspective on the institutional and personal projects you bring to our courses. We are willing to challenge each other's approaches to the wide range of issues we face in each of our health care institutions. We seek to learn from and with each other as faculty and scholars. Our academic culture has enabled us to become known as an incubator for health care innovations and innovators and we should all be proud of this recognition.
Over the last few years we have worked hard together to bring into our HMI leadership team many new faculty who now run courses with us, lead special content themes in our Health Care Educator course and manage all of our social media activities. All of this effort in recruiting and mentoring these stellar individuals enables me to feel comfortable in passing the baton of the leadership of HMI to a new director, Dr. Sarah Wood. I will be stepping down as director of the Harvard Macy Institute on April 30, 2023.
It is my sincere goal to create a smooth transition for HMI, its new director and for my own professional activities. I plan to remain actively engaged with education and leadership projects at a range of health care institutions, including Boston Children's Hospital. I look forward to staying in touch with our community. My Harvard email will remain until the end of 2024 and I will also be using my Children's email. It has been a privilege and an honor to work with each and everyone one of you. Many of you have asked me over the years why I continue to teach and there is only one answer that I have ever given and that is because I love to learn. I am forever grateful for our relationships and the community we built together.
With my deepest gratitude and best wishes for your success,
Liz
Elizabeth G. Armstrong, Ph.D.
Professor in Pediatrics, PT
Director, Harvard Macy Institute
Elizabeth Armstrong, Ph.D.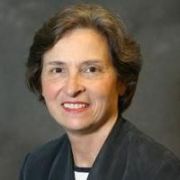 Dr. Armstrong has held positions at Harvard Medical School since 1984, including Director of Curriculum 1988 - 1992 and Director of Medical Education 1992 – 2001. She played a leadership role in designing, implementing and expanding Harvard's New Pathway curriculum. In 1994 with funding from the Josiah Macy Jr. Foundation, she created the Harvard Macy Institute.