Many of us have a love/hate relationship with technology, and it often involves standing in front of a bunch of intelligent students while technology fails us. As educators, how can we prevent this from happening? A recommendation is to choose your instructional strategy first, investigate the theory behind the strategy second, and then pick the technology that affords you benefits you would not get with the old methods. In this blog post, I offer strategies for doing this, and provide a short list of common strategies related to theory, then matched with technology benefits.
At Eastern Virginia Medical School (EVMS), we have been considering ways to make small group learning more engaging by using technology. Learners have been arriving unprepared, without completing the pre-reading. Small group leaders had different approaches to using the assigned pre-reading and we wanted to investigate a way unify all participant understanding before entering the small group discussion. We also wanted a way to engage introverted learners and motivate all learners to prepare for discussion. Audience response systems (clickers) were considered to meet these goals, but an investigation of experiential learning theory (ELT) provided us with an understanding of why small group learning works. Some ways ELT facilitates learning include setting a positive climate for learning, clarifying the purpose for learning, and including organized resources. Clickers would engage learners, but the reason seemed punitive and could be embarrassing to unprepared learners. The technology did not match the goals of the instructional strategy but the technology was certainly compelling.
We have all been there with technology… standing in front of a group of students watching our great instruction flop because of failing technology. While I cannot help with the inevitable technology issues that you will encounter, I can offer a way to increase the benefits of using educational technology. Learning theory describes how students learn while teaching strategies involve the usual methods such as lecture, and small group. The methods featured in the table below are the most frequently used methods here at Eastern Virginia Medical School. You may also obtain a list of methods from the Medbiquitous curriculum inventory . First, let's consider the learning theory, and then choose the strategy. Just for a moment, let's forget about the technology. While this approach may revoke my perennial geek card in your mind, considering the strategy first will prevent those awkward tech-moments with artificially inserted technology.
As an example, we considered the use of an audience response system (polling, clickers) for small group (<12) discussion. The polling technology would have interfered with the flow of discussion facilitated in a small group. Instead, we focused on experiential learning theory first, then small group instruction strategy. The learning theory drove us to use discussion that was case based. Our typical problems with this format were learners not prepared for discussion, and introverts disappeared in a small group. To resolve this issue, we used experiential learning theory to inform our approach to small group learning. We made the material relevant to practice, then chose the small group learning strategy. The most important aspect of experiential learning was to allow complete learner participation in solving practical problems. Learners needed to arrive prepared for the experience by reading required materials ahead of time. Instructors can annotate existing reading materials in any of these open source pdf programs, in order to give some support to the learner during the experience. One main instructor may annotate existing reading materials and provide some ad hoc faculty development for preceptors too busy to attend formal meetings. By entering text boxes in selected places, the boxes could provide text to clarify the purpose of the instruction and focus the attention on the most relevant questions for discussion. We created a pre-requisite quiz in the learning management system (LMS), which helped learners hold themselves accountable for preparation. We also made the quiz count for completion to allow for a formative atmosphere of learning. Some lessons learned from our initial process include using quiz question at or above the Bloom's Taxonomy 'application' level. The higher-level questions require using the knowledge and not just identifying the facts. Annotating the articles may also be accomplished by hand writing notes on a printed article, and then scanning it and providing it to learners.
Below, I articulate a few commonly utilized teaching strategies and their barriers to learner engagement, along with technologies that are well aligned to their use. Read the theory first, note the common strategy in which the theory may be used, see the common problems you may encounter using those strategies, look at the suggested technologies and their affordances, and then try it out!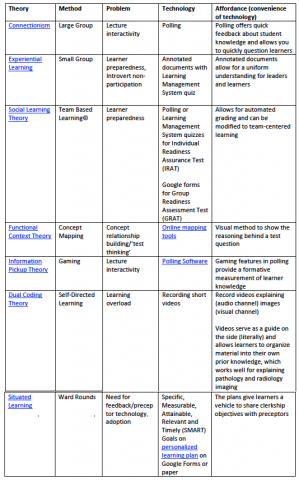 Have you used any of these in your teaching? Share your experience below and join the conversation!
Did you know that the Harvard Macy Institute Community Blog has had more than 165 posts? Previous blog posts have explored topics including team science, challenging assumptions, and the power of interprofessional education.
Julie A. Bridges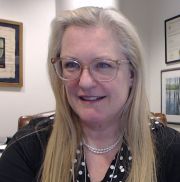 Julie A. Bridges, B.S., M.S. Ed., Ph.D. (Assessment, '18) is an instructional designer for clinical education and also teaches the Applied Learning Theory course in the doctoral program in Medical and Health Professions Education at Eastern Virginia Medical School in Norfolk, Virginia. Julie's professional interests include generative learning, cognitive load, wellness, and serving as the assistant editor of the online Journal of Applied Instructional Design. Julie can be followed on LinkedIn, Twitter, or contacted via email.