As the Harvard Macy Institute and the field of health professions education have developed over the last 25 years, there has been a parallel growth in funding and scholarship within the equally multidisciplinary field of global health. Education and global health increasingly interconnect, and herein I discuss some of their fruitful crossings and lay out a vision of where the overlap between the two fields may lead.
For many of us, global health conjures visions of exotic, sun-drenched locations beset by the diseases of poverty, and valiant efforts from Western healthcare providers to reduce these unnecessary deaths. This perspective of global health lessens our fellow healthcare professionals in low- and medium-income countries, however, for whom this is their local health work, and raises the question of how to define the field. By disease? By location, as with the older fields of tropical medicine and international medicine from which global health has developed? There are a range of answers in the literature. I personally find most compelling the definition of the Consortium of Universities for Global Health:
Global health is an area for study, research, and practice that places a priority on improving health and achieving equity in health for all people worldwide.
This definition places equity at the heart of global health, and thus expands it to include nursing-driven nutrition projects in Detroit equally with surgical projects in Dhaka. Accompanying this shift in definition over time is a shift in approach, away from direct provision of clinical care by providers from high-income countries to the populations of low- and middle-income countries, towards support for the health systems of these countries in educating and expanding their local capacity.
This brings us to health professions education, and the role of high-income countries in global health at this moment. While the ideal healthcare provider for a given patient is one who knows their language, their culture, the local burden of disease, and the local healthcare system, foreigners can bring invaluable support to the leaders of local health care systems and transient provision of more advanced care while training up local workforces to meet the need in the future. Emergency medicine, cardiac catheterization, critical care, and many other fields have had projects demonstrating this approach to building new elements within the existent healthcare structures of low- and middle-income countries. To work, to actually improve health, all of these require effective education as a necessary element of their intervention. As educators, we know the importance of using theory and data to guide our teaching approaches, and this is just as true of my friends teaching in Haiti as it is of those teaching at Harvard Medical School.
So, what can we as educators do to help the health of the world? What can high-income country educators interested in global health as a field do to support their colleagues elsewhere in the world?
I have been excited at the Harvard-Macy Institute's own efforts in this regard. I have worked with an non-governmental organization (NGO), EqualHealth, since 2001, when we began providing educational support for Haitian nurses and doctors in partner organizations in Haiti. One of the biggest requests from our colleagues there has been to support them in building their educational capacity, and we have implemented a range of programs through our partnerships with Zanmi Lasante and St Boniface Hospital in particular. The Harvard Macy Institute has joined us in this effort for the last 2 years by providing support to help bring Haitian medical educators to the Program for Educators in Health Professions as part of our medical education fellowship. Participants are chosen through a competitive process, hold positions of prominence within their institutions, and are teaching the next generation of Haitian physicians and nurses. We think this is exactly the sort of partnership that will help global health and medical education alike over time – a specific need with a request for support, financial assistance from our NGO to cover tuition, and a promise of ongoing partnership to help implement the new skills being learned. This is not the only area where the Harvard Macy Institute alumni are active. Prior Harvard Macy Institute Community blog posts have documented the efforts of others such as Senthill Rajasekaran and Gaurab Basu around issues of global health and equity. Many academic institutions in high-income countries have ongoing global health programs, and we as educators can play a great role in augmenting these with cutting-edge educational theory.
In due time I hope that hearing "global health" will bring to mind the healthcare professionals of low- and middle-income countries tackling the health disparities of their populations, with the support and partnership of their colleagues from high-income settings. Our path towards more health for everyone in the world includes a vital step of improved education for all healthcare providers.
Have you done global health work involving education? Share your experience below!
Did you know that the Harvard Macy Institute Community Blog has had more than 165 posts? Previous blog posts have explored topics including unconscious bias, embracing technology to maximize academic productivity, and the power of interprofessional education.
James Hudspeth, MD, FACP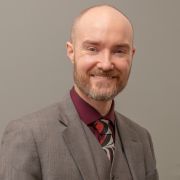 James Hudspeth, MD, FACP (Educators' 16, Leadership '18) is an internist, hospitalist, medical educator, and Assistant Professor at Boston University School of Medicine. His professional interests include teaching global health to residents in the US, supporting graduate medical education in low- and middle-income countries, and improving education in hospital settings. He can be followed on Twitter or contacted via email.