There has been a dramatic increase in telemedicine and online remote learning during the COVID-19 pandemic. This shift normalized clinical care and education in spaces outside the confines of the hospital, office, or classroom. Parents who pump breastmilk at work have long known that clinical and educational tasks can and often must be done in unconventional spaces while expressing breastmilk at the same time.
Computer work and phone calls are completed while pumping in designated lactation spaces, cars, bathroom or shower stalls, closets, and conference rooms. With suboptimal pumping spaces come several challenges: maintaining a degree of privacy that is acceptable, responding to questions and potential concerns of colleagues, finding a refrigerator to store breastmilk, and access to a sink to wash pump parts. If a pumping professional is able to work from home as many are during the pandemic, several of these challenges are eliminated. Privacy is easily attainable, others in the household are familiar and comfortable with pumping and breastfeeding, and a refrigerator and sink are readily available.
The social isolation of the COVID-19 pandemic has impacted the health and well-being of so many, and the full scope of these effects remains to be seen. Pumping parents have experienced the physical isolation of separating ourselves from colleagues, patients, and learners. However, a positive change is that pumping parents are not the only professionals working from a distance. Many are now accustomed to sitting alone in a room communicating with colleagues, patients, and learners via phone or computer. Further, the absence of a colleague who temporarily removes themselves from a workspace is less obvious when many are working and learning remotely. Systems are in place to make remote work more efficient and effective, benefiting the pumping health professions educator as well as patients, students, and peers.
With all the pandemic-related challenges for caregivers from remote schooling to interruptions in childcare to disruptions in elder care services and healthcare for loved ones and pets, the positive changes related to remote work, education, and communication offer a glimmer of a silver lining for caregivers in health professions education. They may now be able to virtually join meetings and events that previously would have been impossible to attend. With less time spent within the confines of our clinical and educational institutions, there may be more time to be present with loved ones and pets at home.
Moving forward, leaders must continue to cultivate a work environment that supports caregivers. This should include dedicated lactation spaces for on-site work and flexibility in remote work. Caregiver responsibilities should be considered when scheduling professional activities. Institutions may also find their employees experience decreased sick leave, improved retention, and increased productivity when more flexible policies are embraced
This is an important opportunity for leaders to model balancing caregiver responsibilities and supporting caregivers. For example, have transparent conversations with your team members about what they need to be successful in their roles. Or, offer virtual meeting and conference options when possible so more caregivers can participate. Even soliciting feedback on best times to schedule essential meetings can help team members feel valued, and valuable. Importantly, time spent at outside of work with loved ones should be valued and protected.
What other ways can leaders support caregivers in health professions education at work? Comment below!
Did you know that the Harvard Macy Institute Community Blog has had more than 300 posts? Previous blog posts have explored topics including reimagining the visiting professorship during a pandemic, universal design for learning, and the cognitive load of COVID-19.
Erica O Miller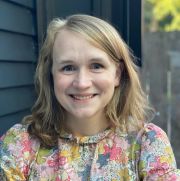 Erica O. Miller, MD (Educators '22) is a Medical Educator and Cardiologist. Erica currently holds positions as Assistant Professor of Medicine and Associate Program Director of both the Internal Medicine - Pediatrics Residency and Cardiovascular Disease Fellowship at the University of Rochester Medical Center. Erica's areas of professional interest include diversity, equity, and inclusion, curriculum development, and hypertension. Erica can be followed on Twitter or contacted via email.