In 2020, I met with my co-director, distinguished professor of History and renowned Diversity Educator, Dr. Carlos E. Cortés to create a Health Equity, Social Justice, and Anti-Racism (HESJAR) curricular initiative. As we pondered our curriculum-to-be, we recognized that health equity, social justice, and anti-racism raised related but inherently different issues. Anti-racism focuses on one critical dimension of group-based experience. Health equity embraces the intersection of myriad social categories. Social justice draws our eyes to larger societal and even global cultural and structural. We needed to be innovative in our approach.
In keeping with one element of antiracist pedagogy, we created opportunities for our community to listen to stories of students, faculty, and community members from historically marginalized communities. These stories were a key element in shaping our curriculum. Traditional curricular development models may not prioritize the voices and experiences of marginalized communities, while we put story listening at the center of the process.
Story listening prioritizes the voices and experiences of marginalized communities, creating a wider range of perspectives and a deeper understanding of the complexities of identity and culture. Story listening creates opportunities to redefine values/identity (Identify), provides perspective (Describe), and allows the storyteller to regain control over the future (Dismantle) - an act of antiracism.
To do this we developed the Brave, Values, Action (BrVA) approach:
Creating a Brave space: Over several weeks we held listening sessions that did not interfere with curricular obligations. To promote a risk supportive space, sessions for students were held separately from those for faculty. We developed a series of questions, but the list proved unnecessary. Once we presented the opening question – what comes into your mind when you think about health equity, then social justice, then anti-racism? – they buried us with a flood of insights.
Committing to a Value important to the storyteller: We listened to students and faculty tell us they needed a curriculum that prepared future physicians to advocate for excellent health care for all. A curriculum that helped them better identify and address inequity producing flaws in the current health care system. A curriculum that challenged the stereotypical misuse of race in health. They told us they needed to have a dialogue with and listen to local communities of diversity served by the school.
Committing to Actions that honor a value important to the storyteller: By listening to the needs expressed by students and faculty in these sessions, we created a student led community courageous conversation series with marginalized communities in our county focusing on intersectional health care stories and experiences.
Listening to stories from residents of our communities helped us identify values important to them. These serve as the foundational themes of our curriculum:
Interpersonal Triad: These are the relationships between health care professionals, patients, and their families. Three themes – active listening, communication, and advocacy – are central. "How do we consistently include a consideration of cross-cultural and cross-lingual perceptions in patient interactions?"
Health Care Systems, Culture, and Structures: These three health care components contribute to health equity or disparities. "How does race factor into this triad? What steps could we take to make these components responsive to health inequities and supportive of social justice?"
Health Equity Framework: To integrate this into the school's focus on patient-centered care, this framework posits a single foundational question, which we encourage faculty and students to ask and apply when teaching case studies and clinical situations. "In this case or situation, what personal, systemic, cultural, or structural factors may exist that could facilitate or complicate the pursuit of health equity for your patient?"
We continue to use this BrVA approach in story listening to guide us in the growth of our curriculum. How have you approached story listening in developing a curriculum?
The author acknowledges Dr. Carlos E. Cortés for his feedback on an early version of the blog post.
Did you know that the Harvard Macy Institute Community Blog has had more than 340 posts? Previous blog posts have explored topics including evaluation inequities, lessons from a mobile classroom pilot, and the "Heron 8."
Adwoa Osei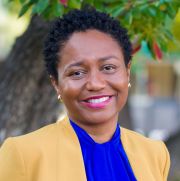 Adwoa Osei, MD, FAAP, (Educators, '22) is a medical educator and pediatrician. She currently serves as Director of Health Justice, Social Justice and Anti-racism in the Undergraduate Medical Education curriculum, Director of the Pediatric Clerkship, and Program Director of the PRIME Leadership in Education to Advance Diversity – African, Black, and Caribbean – at the University of California, Riverside. Adwoa's areas of professional interest include medical education, trauma informed care, and relational health care and human flourishing. Adwoa can be followed on
LinkedIn
or contacted via
email
.