Eighty million Americans listen to audio podcasts weekly—almost the same amount of people who watch the Super Bowl every year. If you have a phone, tablet, or computer, you can access over sixty-three million free podcast episodes anytime, anywhere.
Convenience is not the only reason podcasts have grown in popularity over the last decade. The fact that we can do almost anything while listening makes podcasts a convenient media to satisfy our need to be informed, educated, and entertained while we multitask our busy lives. Additionally, this media's intimacy and sense of community are unique to this format. The fact that Spotify is investing $500 million in the medium tells you that podcasts are not only here to stay, but they are also here to take over the waves.
Teaching and learning are dynamic processes, with individual and contextual variabilities. We must continue innovating to compete with all the attention-seeking stimuli available at our learners' disposal.
Providing educational information via audio so that students can access it anywhere, anytime, on their devices can have an indirect effect on learning and clinical practice by increasing overall knowledge. There are thousands of brilliant educational podcasts released every week. Some of my personal favorites offering content relevant for educators are: Teaching in Higher Ed Podcast, You've Got This, and The Key.
Health profession educators should take advantage of the current technological advancements available, to expand their educational strategies and reach a broader student audience. Therefore, I invite you to find your target audience (students, residents, patients, or community) and share your expertise and passions using all the resources available to you.
Through launching @theinternationaldentist podcast in October of 2020, I wanted to reach internationally-trained dentists to share experiences and career paths of successful foreign dental professionals. By sharing the challenges and alternatives, we help them to navigate the system and develop a professional career in the US and overseas.
As you start your podcast journey, let me share what I have learned:
Audience: Like in a classroom, your listeners are your students. Provide content that relates to the specific group, adds value, and creates an emotional connection. Adapt to meet your audience's needs or challenges and consider their overarching generation characteristics as learners.
Storyline: a podcast is not a narrative of facts or scientific paper on an audio file; it is a story that your learners can relate to. Consider starting your episodes with a challenging question or a surprising statistic related to your learning objectives.
Format: decide whether to have a monologue, host interviews, guest speakers, or group discussions.
Delivery: Listeners want energy, passion, and expertise. That sense of listening to an 'expert,' also shown by Nass and Reeves to increase retention, is essential in learning. It must be and sound natural. Over-produced podcasts can often be counterproductive. Resist the temptation to read over a script without emphasis.
Transcription: providing a transcript in the episode notes is always recommended. Podcasts have one great advantage over video or text/graphics since you don't have to look at a screen that allows you to take notes. Research shows that notetaking can increase retention from 20-30%. In learning podcasts, you must recommend notetaking.
I am a podcast fan myself. I find inspiration and motivation through the voice of others sharing their passions. I get ideas on delivering content, and I am challenged to say the most by using fewer words and becoming an effective communicator to transform healthcare delivery and education.
So, what is your podcast idea about? How do you think a podcast can increase your impact as an educator? Comment below and join the conversation
Did you know that the Harvard Macy Institute Community Blog has had more than 310 posts? Previous blog posts have explored topics including the cognitive load of COVID-19, connecting scholarship to practice in health professions education, and technology in education.
Gabriela Lagreca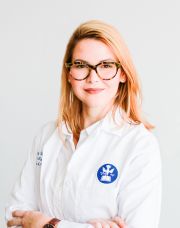 Gabriela Lagreca, DDS, FACP (Educator's 21) is the Director of Faculty Education and Instructional Development and Assistant Professor at Tufts University School of Dental Medicine. Gabriela's professional interests include faculty development, educational technology, and educational research. Gabriela can be followed on
Twitter
and
LinkedIn
.