It started with a Twitter post. To celebrate #HMICommunity Day, Holly Gooding (Educators '10) shared a photo from the rooftop of the Grady Hospital parking deck in downtown Atlanta, the gold dome of the State Capitol building gleaming in the background on a sweltering summer day. Lynda Goodfellow (Educators '16) recognized that backdrop as the same one from her own office and reached out to Holly. Over coffee in the Georgia State University (GSU) Student Center, where she serves as Associate Dean for Academic Affairs, Lynda updated her former project group facilitator on the success of her HMI project. Lynda had just welcomed her inaugural class of interprofessional faculty into the Lewis College Teacher Scholar Academy at GSU. Wait a minute, thought Holly. That sounds similar to Linda Lewin's (Educators '97) Woodruff Health Educators Academy at Emory University, Holly's new academic home. Could it be that both Linda and Lynda were transforming interprofessional education in Atlanta using Harvard Macy Institute principles?
The three Harvard Macy Institute alums next met over lunch in the historic Sweet Auburn Market. Having just relocated to Atlanta after 12 years in Boston, Holly was grateful to talk #MedEd with two Harvard Macy Institute friends. It can be lonely moving to a new city, and having Linda with her in the Division of General Pediatrics and Adolescent Medicine at Emory had been wonderful for Holly. Self-described "Kegan fanatics," Holly and Linda share a love of adult development theory and the nuances of applying it to medical student, trainee, and faculty development. Together the three alums discussed the challenges and opportunities found when translating Harvard Macy Institute principles to one's local environment.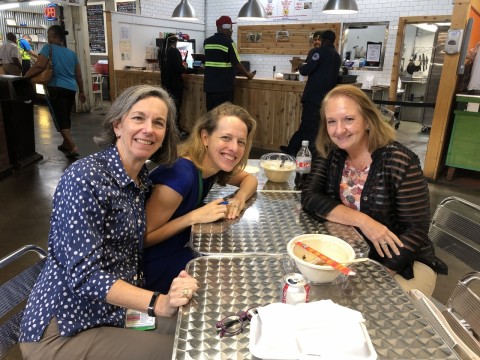 Let's Talk About Teaching: Turn Your Teaching into Scholarship
Under Lynda's leadership, the Lewis College of Nursing and Health Professions at GSU created the Lewis College Teacher-Scholar Academy by soliciting self-nominations from non-tenure and tenure-track faculty who desired to be part of a committed group of faculty seeking to become scholars of teaching and learning. The "Lewis Academy" aims to foster a community exchange of ideas that facilitates meeting the challenges of educating students while faculty members progress towards promotion and tenure. The inaugural class or 12 "Lewis Scholars" was begun in concert with a full-day workshop planned with long time Harvard Macy Institute faculty Daniel Pratt on April 2, 2019. Lewis Scholars proposed a set of goals for development that included a project or other form of scholarly work that should result in an accepted abstract, manuscript, digital publication(s), grant proposal, or other scholarly outcome. Lastly, while this appointment offers no funding, other resources are available, including mentoring, writing assistance and review, and abstract preparation. In the first 6 months, scholars have produced one published manuscript, one accepted manuscript, 2 abstracts for presentations at professional conferences this fall (one voted best poster), purposeful teaching activities that sync with curricular mapping, and two survey instruments in development for research projects.
Linda, unbeknownst to Lynda, was doing very similar work across town at Emory. Beginning in 2017, Linda and a colleague co-founded the Woodruff Health Educators Academy (WHEA), whose stated mission is "To bring together educators across the health sciences at Emory to promote and support the practice and scholarship of teaching and learning." WHEA currently sponsors two fellowship programs, one focused on educational scholarship and research and one concentrating on advancing teaching skills. WHEA also sponsors a monthly interprofessional education journal club and a triennial Educators Salon series of brief talks about topics of interest to educators across the health sciences in conjunction with a social event to support community building. WHEA has had over 400 faculty members from the schools of nursing, medicine, and public health participate in its programs to date, and continues to grow its portfolio of programs.
Connecting Lynda and Linda began a conversation about sharing ideas that can only lead to bigger and better programs in the future.
Have you connected with HMI Alums in your city? Via Twitter, LinkedIn, or Facebook? How has this enhanced your work? Comment on our blog below or share photos of your #HMIMeetUp – and don't forget to tag Harvard Macy!
Did you know that the Harvard Macy Institute Community Blog has had 200 posts? Previous blog posts have explored topics including joining the Harvard Macy Institute 'system,' being back in the scholar seat, and a social media update to our community.
Author BIOs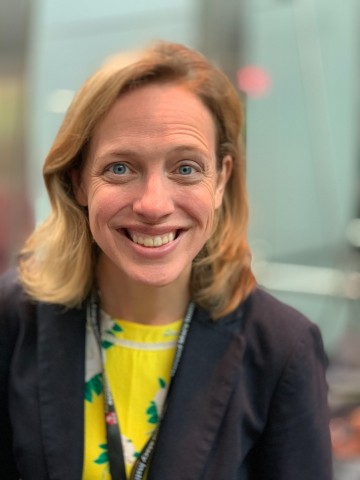 Holly Gooding, MD, MSc (Educators '10; 2.0 '15; Leaders '16) is Co-Director of the Harvard Macy Institute Program for Educators in the Health Professions. Holly currently holds a position as Section Chief of Adolescent Medicine at Emory University School of Medicine. Holly's areas of professional interests include faculty development, professional identify formation, and healthy development across the life course. Holly can be followed on Twitter or reached via email.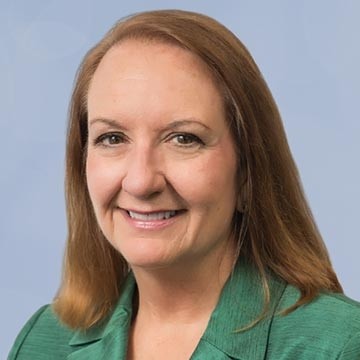 Lynda Goodfellow, Ed.D. (Educators '16) is a Professor of Respiratory Therapy and Senior Associate Dean for the Lewis College of Nursing and Health Professions. As a registered respiratory therapist and certified asthma educator, Lynda's areas of professional interest include Chronic Lung Disease management and education, particularly for asthma disease management. Lynda can be followed on Twitter or reached via email.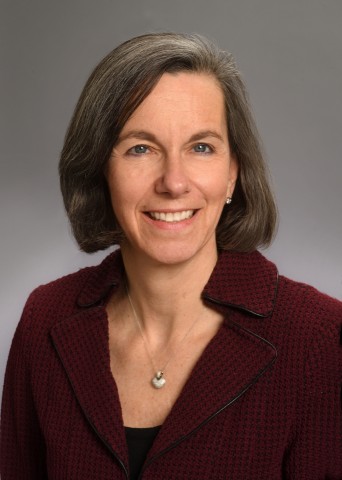 Linda Lewin, MD (Educators' '97) is a general pediatrician and co-director of the Woodruff Health Educators Academy at Emory University. Linda's professional interests include professional identity formation, interprofessional education, and promoting educational scholarship. Linda can be reached via email.
HMI Guest