At the end of a case presentation, you ask your learner "what's the patient diagnosis?", and you think to yourself "what's the learner diagnosis?"
Consider the GAP in clinical reasoning. Focus on the following:
Generating Hypothesis and Gathering Appropriate Data – identified by poor problem representation; difficulties in generating hypotheses; identifying cues and directed data gathering
Appraising Data – identified by difficulties in building an overall picture; difficulties in prioritizing; difficulties in elaborating a management plan
Proclivity for Bias – premature closure; availability; confirmation
Learners may have more than one deficiency. Consider the following remedial exercises:
G– role play to demonstrate use of communication and physical examination skills; VINDICATEmnemonic to generate a broader hypothesis
A– highlight pertinent information; develop concept maps for problems; explicitly demonstrate semantic transformation of problems
P – discuss justification of main hypothesis and generate alternative hypotheses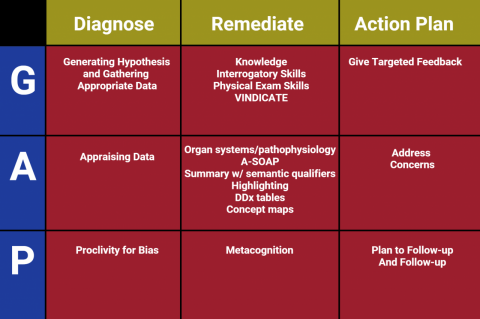 References
Audétat MC, Laurin S, Dory V, Charlin B, Nendaz MR. Diagnosis and management of clinical reasoning difficulties: Part II. Clinical reasoning difficulties: Management and remediation strategies.Med Teach. 2017 Aug;39(8):797-801. doi: 10.1080/0142159X.2017.1331034. Epub 2017 Jun 7.
Weinstein A, Gupta S, Pinto-Powell R, et al. Diagnosing and remediating clinical reasoning difficulties: a faculty development workshop. MedEdPORTAL. 2017; 13:10650. https://doi.org/10.15766/mep_2374-8265.10650
Author BIO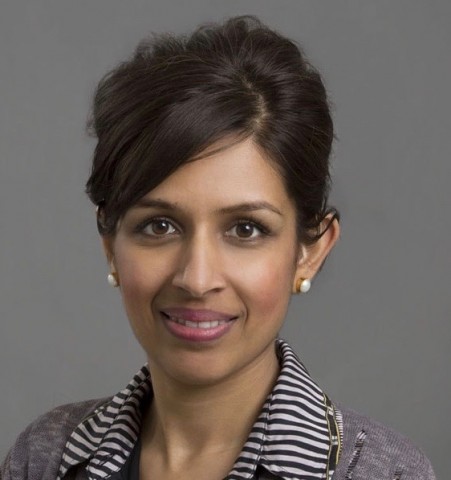 Shanu Gupta, Bachelor Medicine, is a Medical Educator and Internal Medicine Hospitalist. Shanu currently holds a position as Assistant Professor at the University of South Florida. Shanu's areas of professional interest include clinical reasoning, simulation and faculty development. Shanu can be followed on Twitter @shanumeisterand/or LinkedIn.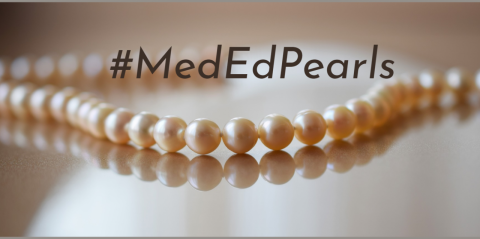 #MedEdPearls are developed monthly by the Central Group on Educational Affairs. Previously, #MedEdPearls explored topics including feedback, converting teaching into scholarship, and a different approach to questioning. Thank you for reading and enjoy the Pearls!
#MedEdPearls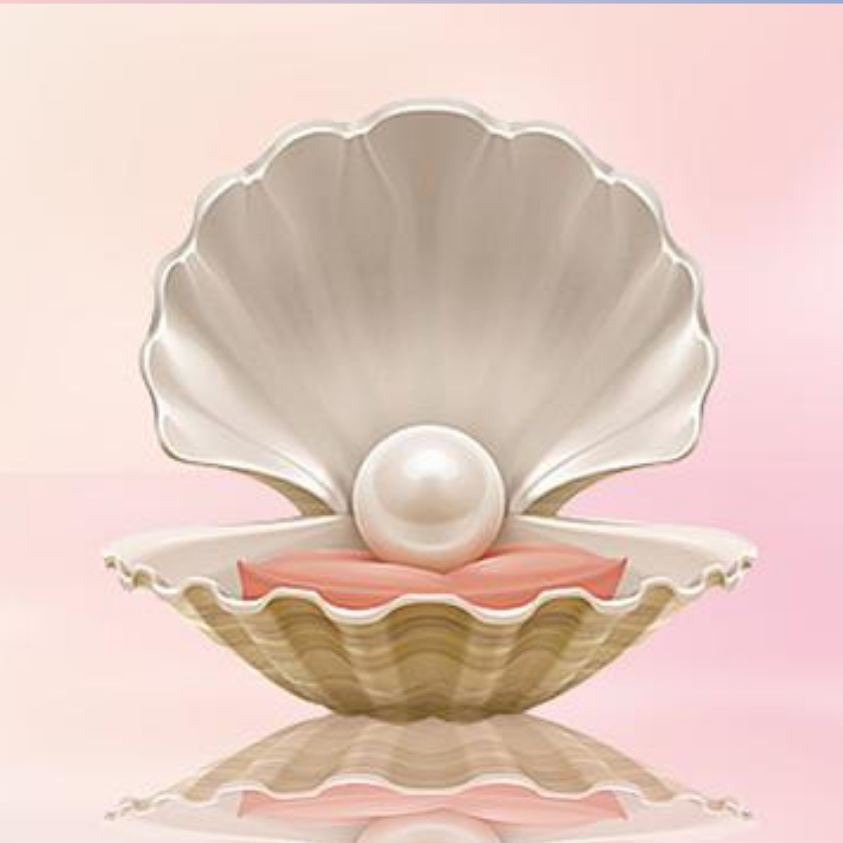 #MedEdPearls Team:
Jean Bailey, PhD – Virginia Commonwealth University School of Medicine
Carrie Bowler, EdD, MS, MLSCM (ASCP) – Mayo Clinic
Kristina Dzara, PhD, MMSc (Educators '16; Assessment '16; HCE 2.0 '17) – University of Washington School of Medicine
Shanu Gupta, MD – University of South Florida and Tampa General Hospital
Jennifer Hillyer, PhD – Northeast Ohio Medical University College of Medicine
Larry Hurtubise, PhD (HCE 2.0 '16) – The Ohio State University College of Pharmacy
Anna Lama, EdD – West Virginia School of Medicine
Machelle Linsenmeyer, EdD, NAOME (Assessment '07) – West Virginia School of Osteopathic Medicine
Linda Love, EdD – University of Nebraska Medical Center
Leah Sheridan, PhD – The Ohio University Heritage College of Osteopathic Medicine
Lonika Sood, MBBS, MHPE, Elson S. Floyd College of Medicine, Washington State University
Mark Terrell, EdD – Lake Erie College of Osteopathic Medicine