The COVID-19 pandemic has been a challenging time for healthcare and for health professions educators. But there are opportunities for innovative approaches to our clinical and educational work, and for reflection on the systems of training and workforce development. The pandemic has brought a sharp focus on leadership and change.
In episode #4 Victoria Brazil speaks with Professor Liz Armstrong, Director of the Harvard Macy Institute, about 'silver linings' – the opportunities for innovation and creativity – from the challenges of the COVID-19 pandemic. Liz describes the plans for running the June Leaders program online, and how interactivity and small group work are being supported. She tells us about a preliminary exercise the scholars have completed – focused on their own 'silver linings' – and how (paradoxically) 'staying at home' seems to have fostered more community, collaboration and patient focused care. And finally – Liz and Vic ponder on broader issues of change and innovation in healthcare, and take lessons from Elon Musk and SpaceX !
Watch out for new episodes this year which will be announced on our blog and our Twitter, LinkedIn, and Facebook social media channels.
Did you know that the Harvard Macy Institute Community Blog has had more than 220 posts? Previous posts have included interviews with Alice Fornari, Louis Pangaro, and Victoria Brazil!
Author BIO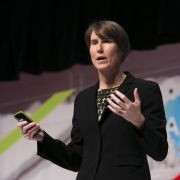 Victoria Brazil, MD (Educators, '05, Leaders '07, Assessment '10) is Professor of Emergency Medicine and Director of Simulation at Bond University Faculty of Health Sciences and Medicine. Her research interests include podcasting and simulation, and she is co-producer of Simulcast - a podcast about healthcare simulation. Victoria can be followed on Twitter.