Transformation is a bit of a buzzword word these days. Transformation of healthcare to meet the Triple AIM; transformation of graduate medical education (GME) in the Next Accreditation System; transformation of healthcare delivery with interprofessional practice. But, at the Harvard Macy Institute we dug deep with personal transformation, which I propose is the essential ingredient for true healthcare transformation.
In 2013, I was chosen to join the Macy Faculty Scholars Program, designed to identify and nurture the careers of educational innovators in medicine and nursing. My 2013 cohort consisted of two physician educators, two nurse educators and a pharmacy educator. The five of us participated in the HMI Program for Educators in Health Professions 2014 and the HMI Leading Innovations in Health Care and Education 2015.

I remember waking up on Saturday morning January 19, 2014 for our four hour session on 'Transformational Faculty Development' with Dr. Robert Kegan. No other session was a full four hours and I wondered what could possibly be in store for us. I had been primed for Dr. Kegan's curriculum by Dr. Meaghan Ruddy, then a graduate student at The Wright Center for Graduate Medical Education, who had been studying transformation theory for her dissertation. Dr. Ruddy's thesis was on the intersection of healthcare, medical education and personal transformation, now summarized in Academic Medicine. Without giving it away, Dr. Kegan's session was, as billed, personally transforming (and everyone I speak with who takes the course walks away starry-starry-eyed after that session).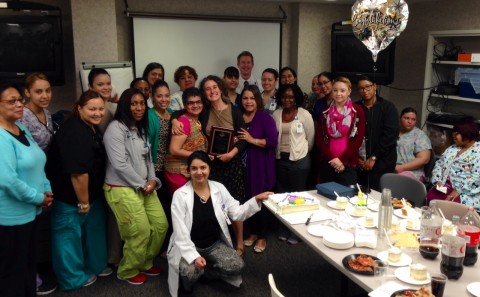 Transforming Practice
Today was my last day as a clinical educator, a job that I have had for 21 years. When I started as an attending I was the first to be hired to see my own patients at the clinic. Prior to this, the clinic, now High Street Health Center, was staffed by attendings but the direct care was exclusively delivered by trainees. It was my cohort of attendings that embarked to transform the practice into an academic Patient Centered Medical Home (words we did not yet have in 1997).
In addition to seeing general medicine patients, I was asked to develop a practice that cared for the HIV patients. Armed with a log book and a pencil, I asked the three nurses, the one nurse practitioner and all the residents to hand me a sticker for any patient with HIV (now know as population health). After 6 months, I had a list of 179 patients. All of them had been given excellent episodic care. Their notes included a long differentials, elaborate treatment plans and , always, a plan to start antiviral therapy when the patient returned. Brilliant academic intentions, but as for outcomes, few patients were on appropriate regimens. With practice transformation, including building an interdisciplinary team of nurses, case managers and pharmacists, we initiated highly active antiviral therapy with care-coordination. Our HIV patients, predominantly addicts and their partners, reached 95% viral suppression, virtually unheard of at the time. We created a new model of care.
Transforming education
I started as an intern in the 1990s at a prestigious urban hospital in the Northeast. It was the era of The House of God, where making mistakes was a rite of passage. I saw three errors that year that led to untimely deaths, a result of unsupervised residents. I tried to justify this by knowing that all three patients were terribly ill and likely to die soon anyway. Isn't it better to be at one of the best hospitals in the world, even if trainees are inexperienced? Somehow this did not sit right with me. I transferred residencies.
In 2004, my program, Baystate Internal Medicine Residency was nominated to join 21 other Internal Medicine programs in the United States for the Educational Innovations Project (EIP), a think tank created by the Accreditation Council for Graduate Medical Education to transform GME. Now, 12 years later, we have seen dramatic changes in GME. Residents show competence before being advanced in autonomy. Errors are disclosed, reviewed and subjected to process improvement. At Baystate, residents are immersed in the patient experience, tracing the patient across the transition from hospital to home in their required TRAnsition of CarE Rotation (TRACER).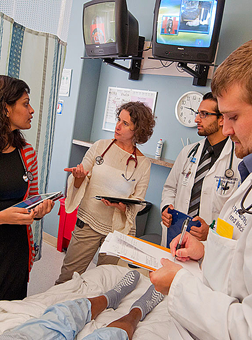 My personal transformation
Today was my last day as a clinical educator. Transformation is personal. I will be starting as the Director of Clinical Learning and Development for Sound Physicians, a large physician practice with 250 hospital partners, delivering patient centered hospital care. Why would I ever leave my patients and my persona as a primary care and hospital educator? Dr. Kegan taught me about Immunity to Change. At HMI Health Educators Course 2014 I learned that I spread myself thin not because 'I can't say no' but because, ultimately, I am afraid of failure; if I threw myself fully into one thing then I might fail. And, so, I am choosing to be brave and take a stab at driving outcomes through education on a large scale.
The convergence of clinical, education and personal transformation brings me to this moment. The HMI courses are a vehicle to professional vitality. I am humbled by the brilliance and productivity of my HMI colleagues and I look forward to changing the world through healthcare education together.
Lauren Meade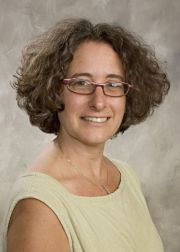 Dr. Lauren Meade, MD, FACP is an Associate Professor of Medicine, Tufts University Medical School and a Josiah Macy Jr. Foundation's Faculty Scholar 2013-2015. Her passion is for excellence in patient-family centered care through education. You can read her and colleagues' recent article in Academic Medicine on transformative faculty development here.