Dr. Liz Armstrong received the 2016 Association of American Medical Colleges Abraham Flexner Award for Distinguished Service in Seattle on Sunday November 13th. One does not have to go far at AAMC to see the reach of Liz and HMI within the medical education community – and by that I mean I literally cannot walk from one session to the next without running into a Macy colleague eager to share their latest project or innovation. There are over 4000 health professional educators at the meeting this year in Seattle, and over 5600 HMI alums worldwide. Think about that for a moment – Liz has trained more educators than attend a large annual education meeting for an entire country! As a merry band of HMI alums cheered her on Sunday night, Liz spoke of how the award belonged to all of us. I know I speak for all of you when I say thank you to Liz for her service to the healthcare education community, and congratulations on this much deserved recognition of her work. If you have a personal note of thanks to Liz, please share it by commenting on the blog below!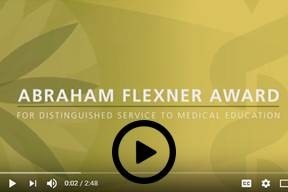 Please click here to view video
Holly Gooding, MD, MSc
Holly Gooding, MD, MSc is Associate Professor of Pediatrics at Emory University School of Medicine and Co-Director of the Program for Educators at the Harvard Macy Institute.  She is also Medical Director of the Adolescent Medicine practice at Children's Healthcare of Atlanta. Her research and educational interests are in the promotion of healthy development during the transition to adulthood.  In her spare time she enjoys biking with her family in Atlanta.