The COVID-19 pandemic has sparked a parallel pandemic of psychological distress across the world. Health care staff who are at the forefront are also highly vulnerable to psychological distress. There are several pandemic related contributing factors including fear of getting sick and infecting others, increased work demands, disruption of normal routine, uncertainty about the future and social isolation. Quarantine itself is a risk factor and promotes social isolation.
Quarantine itself is a risk factor and promotes social isolation. Just a few months before the pandemic, I moved from Washington, DC to Doha Qatar for a new job as a psychiatrist at Sidra Medicine. It was difficult to leave my friends and family, but we made future travel plans to see each other soon. When I arrived at Sidra, I learnt that more than 90% of the staff including residents and fellows were expatriates like me, representing ninety nine different countries. I felt oddly at home among others who were also far away from home. Then in early March, the world changed. All travel to and from Qatar was banned. Hospital staff who had been travelling when the pandemic hit, returned to find they were subject to fourteen days of mandatory Quarantine in a state assigned hotel. The majority of our staff were asked to work from home. Resident rotations were disrupted, with increasing need for cross-coverage, as residents were assigned to COVID-19 units or placed in quarantine
There was a growing sense of gloom within the hospital. My colleagues and I heard heartbreaking stories; the co-worker who lost a close family member but could not travel for the funeral; the single colleague who felt isolated in quarantine without family around for support; the clinician who felt overwhelmed by guilt after their spouse tested positive for coronavirus. These stories were a catalyst for action for our psychiatry team. Given social distancing rules, we decided to adapt online platforms to provide mental health support to hospital staff. As the first step, we conducted a hospital-wide survey to assess levels of psychological distress and to explore what type of support staff would be interested in. As expected, staff reported high levels of anxiety, low mood, feelings of isolation, loss of motivation and insomnia, as well as interest in psychological support interventions.
Joining forces with the Department of Occupational Health, we created an all virtual tiered mental health education and support intervention model. The model included mental health educational webinars, small peer support groups, and individual counseling. The webinars were the most popular among staff. These were livestreamed on various topics such as stress management, reducing family conflict, and preventing burnout and building resilience. We believed the educational nature of these webinars would reduce the stigma which sometimes hinders access to mental health treatments. The recordings were made available on the hospital web portal for staff who were unable to attend. Residents and fellows were encouraged to attend. No financial support was available for this program but psychiatrists and psychologists volunteered to provide these webinars biweekly from June to August, 2020. The webinars reached not only our hospital staff but were also attended by staff from a neighboring hospital. In the question and answer portion of the last webinar, colleagues shared heartwarming stories of how they were coping with ongoing adversity, for example how the webinars fostered a sense of virtual community during quarantine and the team of colleagues who was inspired to send humorous recorded messages to a team member in isolation.
Finally, this effort normalized psychological distress, built a sense of cohesion in the face of common adversity and encouraged colleagues to share their feelings with each other rather than hide in fear of stigmatization. This intervention also sparked renewed interest in developing more staff well-being measures, including a new well-being council which received approval from hospital leadership.
Did you know that the Harvard Macy Institute Community Blog has had more than 245 posts? Previous blog posts have explored topics including personal protective equipment and empathy, training with mental practice during COVID-19, and being together, when apart.
Finza Latif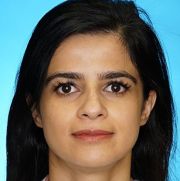 Finza Latif, MD, DFAACAP (Educators, '20) is a medical educator  and child and adolescent psychiatrist. Finza currently holds a position as Program Director of the Child and Adolescent Psychiatry Fellowship and Director of Pediatric Psychiatry Consultation-Liaison Service at Sidra Medicine and Research Center. Finza's areas of professional interest include wellbeing in healthcare and the mental health of physically ill children. Finza can be followed on Twitter or LinkedIn.