Harvard Macy has created a worldwide community of healthcare educators trained to embrace innovations central to a patient-based paradigm of care. One cannot spend time as a scholar without realizing personal and professional change in a journey to becoming a change agent for others. In this blog I will describe a number of innovations I have implemented that I learned in the Health Care Education 2.0 course. The course was transformational for me in so many ways. I was not simply exposed to #MedEd Technology; I was encouraged to develop a fluency in tools available and challenged to develop more.
I have been blessed to realize a rewarding professional life of 4 decades of clinical work including 38 years experience teaching clinical neurology. I founded a Post Doctoral Institute that maintains 28 extension facilities throughout the world with a current student enrollment of over 5,000. Our learners hail from Europe, Middle East, Asia, USA and Canada and the geographical challenges have promoted innovations directed by my Harvard Macy experience. I designed and implemented a randomized controlled trial of distance-learning and on-site learning central to my scholarly project at the Educator's Program. We found on-line learning was as effective of traditional classroom learning. So how did we take our program on-line and keep learning robust?
Creation of an on-line learning portal
We use the tools I was taught in the Health Care Education 2.0 course to deliver the educational material for our standard 25 hour, 3 day instructional program. A pre-course examination is taken in our scholar's learning portal with feedback on competency and identification of areas of weakness. A flipped classroom is accessed after completion of pre-test materials, complimented by four 30-minute videos of instruction and six 30-minute audio podcasts. After completion of learning tasks the scholars complete an online assessment of the subject material in the form of a posttest. All materials, videos and tests are accessed in the learning portal and can be accessed by smart phones, tablets or desktop computers.
We use the QxMD Read App to deliver full text Journal Articles from our Institutional Library holdings for our flipped classroom. We create a delivery system of our collections that are specific for the class and our learners have their entire flipped classroom collection of PDF papers available on their smartphones, tablets and computers. This app facilitates our ability to maintain contact with our learners after their classes as they receive a notice each week with full text access to newly published papers in the knowledge area.
On-line live video streaming
We use a combination of programs to deliver our online live streaming and on demand learning programs. Our Institutional platform allows us to randomly divide our online learners into breakout rooms where they can see each other and engage in the clinical case discussions at the same time as the live attendees. Part of our learning involves real patient scenarios where patients are examined and pathology delineated and discussed specific to treatment options. When the onsite learner is placed in an interactive learning strategy with colleagues, the online learner participates in the same experience. These virtual breakout rooms are also equipped with a white board for drawing, note pads and all of the case materials including clinical video captures of the case.
We use a Live Stream video platform that allows us to deliver our classes in high definition to an unlimited number of learners throughout the globe. We utilize 5 cameras and can switch to different views and areas as well as capture computer screens and presentation software. Our onsite attendees are also divided into computer break out rooms during the course of their learning experience and can interact with the online learners live. All scholars appreciate this ability for the onsite learners to interact with learners around the world.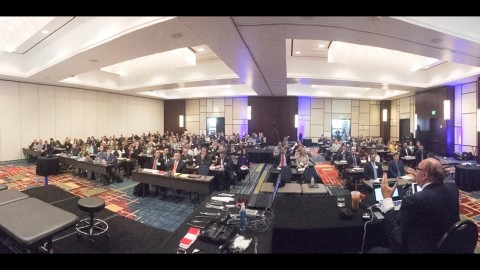 Site Learners at Carrick Institute
Gamification
Our onsite learners are also divided into group teams, with each team identified by a color, and are given pullover shirts to identify them. I learned about gamification in learning at HMI and realized the opportunities to promote learning and skills acquisitions by implementing novel applications in our program. I was pleased to be introduced to Qstream at Harvard Macy, a platform that automatically delivers questions to scholars in a timed fashion that promotes mastery of a subject material. Prizes are given to both teams and individuals with the best performance. Winning is exciting, learners want to win, and I know that I cherish my own First Place Q stream certificate from HMI! The statistical reporting of progress, learning and mastery also allows us to focus our attention to problem areas where we might address a greater attention and applications.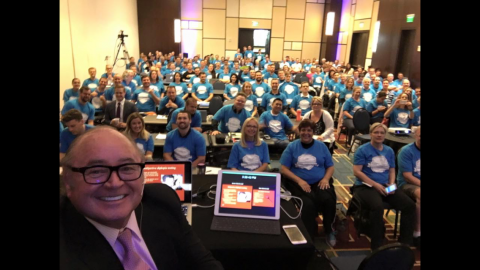 Teal Skills Team
Mobile Audience Response Systems
We use the polleverywhere app to engage both our online and onsite leaners in real time. The Polleverywhere app allows learners to answer questions, target anatomical structures, participate in narrative discussions, create word clouds, and more. We use an average of 75 polls per day and introduce a knowledge area with multiple-choice questions derived from the flipped classroom experience. We follow the poll with case scenarios using patient videos and procedures. The flipped classroom has allowed us to address application and our procedural instruction is based upon the breadth and depth of the flipped classroom experience. Learner smartphones, tablets or computers activate the polleverywhere system. They can tweet or text answers or they can download the app for free and see the questions, diagrams, movies and materials specific to the question. The days of silence when large groups are asked questions or asked to signal a response by raising a hand are gone.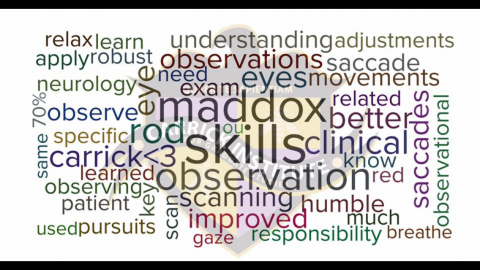 Word clouds are assembled automatically from any long answer question and we have the choice of streaming the responses in their entirety as well as the word cloud summary.
Conclusion
I was extremely content with the quality of our educational approach before HMI. I knew after my first 5 minutes at HMI that my world was to be changed forever. I was taught how to innovate and I was fortunate to be able to initiate change without barriers at my Institution. The methodology of instruction has changed, the format transformed and the delivery is truly 2.0. In addition, my experiences at HMI have benefitted a global group of scholars who have not attended the HMI program, as our faculty and learners show their own desire to embrace further innovations.
What is next? I, like the majority of HMI scholars will be returning to learn, share, innovate and lead MedEd towards a patient-based paradigm of increased clinician skills, caring and service to others above self. I feel as if I am now a Digital Native, but my digital "accent" gives me away. I am going to do my best to ameliorate it.
Frederick R Carrick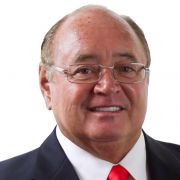 Dr Frederick (Ted) Carrick has maintained an international specialty practice for 37 years.  He is the recipient of numerous professional, governmental and societal awards honoring his contributions to Health Care and the field of clinical neuroscience.  He has taught clinical neurology around the world to physicians from all disciplines.  Ted also has a life long history of service to humankind and regularly donates his time and resources to attend patients in neurological consultation throughout the world.