Fifteen 'mentors' participated in this world café workshop: Nearly 35 participants attended and rated the format highly. During the process of debriefing and reflecting on what worked well and how the workshop could be improved, the group members decided to continue the working relationship and transform into a community of mentors and collaborators. We have worked together since September 2019, publishing papers on speed mentoring and career development for educational leaders and scholars and working on 2 more. We learn from each other and mentor each other.
When the COVID-19 crisis hit, educators across the globe had to make an abrupt switch to virtual educational strategies, and educational leaders had to lead and manage change in a world where change occurred daily. With our shared vision, it was relatively easy for our group to prioritize virtual mentoring as an ongoing activity and contribution to help people cope with and adapt to the 'new normal'. When we say mentoring, we mean providing opportunities for an international group of HPEs to engage in conversations to learn from each other and share success stories. At this point, it was obvious that we needed to be a truly diverse group - diverse in geographic location, cultural context, range of experience and perspectives, since our target audience was always going to be international HPEs. Inspired by the "Doctors without Borders" group, I proposed the term "Mentors without Borders", this immediately resonated with the entire group. We also reached out to educational leaders in 'non-Western' countries as we believed that Western concepts cannot just be recommended as solutions to challenges in all corners of the world- context and culture are critical. Besides, is there a better way to enhance one's own knowledge, skills and cultural intelligence than engage in conversations with a global group of educators, scholars and leaders?
Mentors without Borders (MWB) offered their first virtual world café session on "teaching and learning across the continuum" in May 2020. We had 55 participants engaged in large and small group conversations about the challenges of teaching during the COVID-19 crisis. Participants represented several countries: Australia, Asia (Indonesia, Singapore, Malaysia, Thailand, Pakistan, Sri Lanka, Myanmar, Saudi Arabia), Europe (United Kingdom, the Netherlands, Portugal, Denmark, Finland, Greece, Slovakia, Georgia), Brazil, Egypt, Turkey, Canada and the United States. The mentors facilitated conversations and moderated discussions without posing to be experts and solvers of all problems. Participants shared their own success stories and offered potential solutions to others' challenges. Incredibly, we discovered that several HPEs across the world saw the pandemic as an opportunity to improve their own skills as educators and educational innovators, learning new skills on the fly, and demonstrating why teaching is the noblest profession of them all.
Our second session featured the topic, "Leading and managing change in difficult circumstances" in June 2020. Our registration target of 80 was exceeded within 48 hours, and this doubled again in 3-4 days. As educators who hated turning down participants, we kept enrolling participants until we reached the Zoom platform limit of 200 which would allow us to have breakout room discussions. As we had to turn down almost 70 registrants, the team has decided to organize a series of world café sessions with each topic presented twice and targeting different time zones to accommodate as many educators as possible.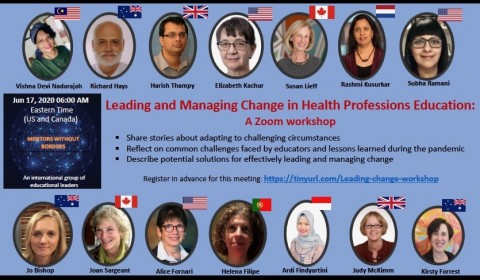 MWB, an informal group of Health Professions Educators, is a completely voluntary effort with the group members united by their vision and donating their time generously. Our group has expanded to include the 6 additional educators listed below. We plan to continue these world café discussions on various topics related to education, scholarship and leadership. Our team continues to expand over time as we deliberately target 'mentors' who represent various regions and cultures around the world.
Stay tuned for future MWB events!
List of Mentors Participating in the AMEE 2019 World Café Workshop: Subha Ramani, Harvard Medical School, USA (Team Leader); Margaret Chisolm, Johns Hopkins University, USA; Helena Filipe, University of Lisbon, Portugal; Alice Fornari, Northwell Health, Hofstra University, USA; Richard Hays, James Cook University, Australia; David Irby, University of California San Francisco, USA; Elizabeth Kachur, Global Consulting, New York, USA; Rashmi Kusurkar, Vrije Universiteit Amsterdam, the Netherlands; Judy McKimm, Swansea University School of Medicine, UK; Patricia O'Sullivan, University of California, USA; Gary Rogers, Griffith University, Australia; Teri Turner, Baylor College of Medicine, USA; Daniel Schumacher, University of Cincinnati, USA; Harish Thampy, University of Manchester, UK; Keith Wilson, Dalhousie University, Canada.
Expanded List of Mentors Without Borders Members as of May 2020: Jo Bishop, Bond University, Australia; Ardi Findyartini, J Faculty of Medicine Universitas Indonesia; Kirsty Forrest, Bond University, Australia; Susan Lieff, University of Toronto, Canada; Vishna Devi Nadarajah, International Medical University, Malaysia; Joan Sargeant, Dalhousie University, Canada.
Did you know that the Harvard Macy Institute Community Blog has had more than 225 posts? Previous blog posts have explored topics including growth mindset and medical education, teaching better with technology, and creating new models for academic publishing.
Author BIO's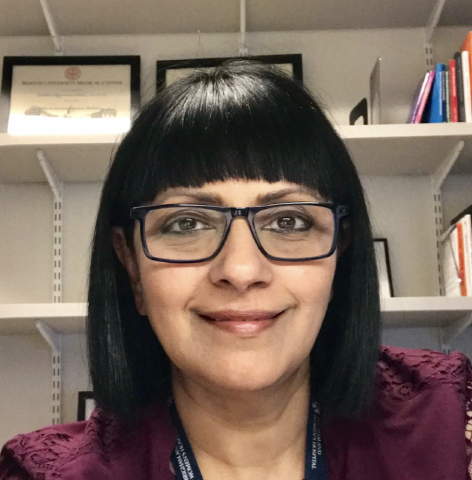 Subha Ramani, MBBS, MPH, MMEd, PhD, FAMEE (Educators, '05; Assessment, '08; Leaders, '09; 2.0, '18) is a General Internist and Education specialist. Subha is Associate Professor of Medicine at Harvard Medical School and the Brigham and Women's Hospital. She also serves as the Leader of Research and Scholarship for the Harvard Macy Institute. Subha's areas of professional interest include qualitative research, curriculum design, assessment, feedback and faculty development. Subha can be followed on Twitter or contacted via email.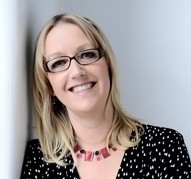 Judy Mckimm, MBA MA(Ed) BA(Hons) PGDipHSW CertEd FAMEE SFHEA FAoME is a Nurse and Medical Educator. Judy is Professor of Medical Education at Swansea University Medical School. Her areas of professional interest include educational leadership, curriculum development, faculty development, and mentoring. Judy can be followed on Twitter and/or LinkedIn or contacted via email.
HMI Guest