I recently had the opportunity to present at the Dell Medical School Palliative Care Grand Rounds. I was fresh from attending the Harvard Macy Institute Program for Educators in the Health Professions, and more fully aware of the significant learning benefits of an interactive lecture. I now had evidence that there are better ways to present material that would help people learn. Plus, I had experience as a learner that engaging, interactive lectures were just way more fun. Now I just had to figure out how to create one…
I did not have any experience creating lectures for a large group of learners that would engage them in an interactive manner. I had only considered what I would tell my audience, but not how to help them learn. In addition, I was presenting at Grand Rounds with a time honored tradition that audience members can show up, peacefully eat their lunch, and have the reassurance that they will be passively lectured at with no pressure to engage. Lights would be dimmed; naps optional. I will admit I was a little daunted at the prospect of trying an active learning format for the first time where there is such inertia and expectation to give a lecture the "old fashioned way" with a set of powerpoint slides. Some of my more senior colleagues advised me against trying to make the session "too interactive," because it is often challenging to get people to talk.
Still, I now knew there was a better way, and I was eager to try. I set out to create a one hour interactive learning session about code status discussions on admission. I carefully thought of questions where residents would have experiences they could reflect upon, which would generate ideas and discussions. I made sure my message was short enough that it could fit within a haiku (thanks to Victoria Brazil!). I even practiced the talk with a willing group of friends to get their feedback. Finally, the big day came. And it was awesome. Or at least, awesome enough for a first time. As always, there were some lessons learned for next time. They are as follows:
Prepare your audience. I did, in fact, eventually get my audience warmed up and participating quite a bit. There were times that the room was full of chatter and it was wonderful. But in the beginning, people were definitely a bit surprised and confused by the break from the usual format. I think it would have been helpful to my audience to have sign posted that we would be breaking from the "traditional format" and I would expect them to interact and share their ideas. One day, I hope this kind of learning will be so expected that this sign post will not be needed. This is particularly important for venues where there is a strong precedent of passive learning, as it may be helpful to let people know their engagement is expected.
Have an easily visible clock. Preferably with a second hand. On several occasions I gave groups 3-5 minutes to generate ideas or reflect. When individuals shared in their small groups, they could practice and refine answers, and then feel more confident sharing with the larger group. Having a clock with a second hand to realize that only 45 seconds had passed was very helpful.
Sit in silence. At one point during my lecture I asked people sit and reflect for one whole minute before sharing their thoughts. I waited for what felt like half an eon in complete silence. I waited, I watched the clock, and I was rewarded with thoughtful answers. This experiment worked, and the discussion afterwards made it feel like everyone in the room had done some thorough cognitive work during the silence. Gail Rice's book, Hitting Pause, explains how having pauses helps increase interest, motivation, attention, and retention of information. In future lectures, I plan to make even greater use of talking less, so students can think more.
Do it! Give lectures in an interactive format! This was a joyful experience for me as an educator. Learners had the opportunity to engage, and they seemed to leave the auditorium more lively than when they came in. I even had one of my original nay-sayers approach me afterwards and tell me she enjoyed my lecture, and was really surprised by how much the audience participated.
What tips do you have for getting your larger audiences to think and engage?
Did you know that the Harvard Macy Institute Community Blog has had more than 185 posts? Previous blog posts have explored topics including worldwide innovations in healthcare delivery, supporting students and faculty through the application of learning sciences, and building an emergency department from scratch.
Sarah Stayer Mills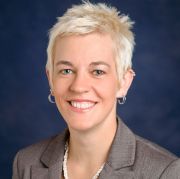 Sarah Mills, MD, MPH (Educators, '19) is a medical educator and palliative care physician. Sarah is a Clinical Assistant Professor in the Department of Internal Medicine and Assistant Program Director of the Palliative Care Fellowship at Dell Medical School. Sarah's area of professional interest include patient communication, end of life care, unconscious bias in healthcare, and how those three aspects interplay to affect patient care. Sarah can be followed on Twitter or contacted via email.