In 2009, physical therapy (PT) clinical education in Canada reached a pivotal point. Canadian university entry-to-practice PT educational programs were faced with the challenge where the current assessment form being used to assess student performance in clinical education was not meeting the needs of Canadian educational institutions. Therefore, we needed to either adopt another measure or develop our own Canadian measure that was reflective of Canadian PT practice. We decided to develop a new Canadian measure and I seized this incredible opportunity to lead this national initiative.
In collaboration with the National Association for Clinical Education in Physiotherapy (NACEP), I set out to develop a Canadian measurement tool that would meet several essential criteria. These included being accessible online, in both English and French, as well as psychometrically sound and reflective of Canadian PT practice. Two Harvard Macy Institute courses later, A Systems Approach to Assessment in Health Professions Education and Leading Innovations in Health Care & Education, as well as a PhD, I achieved this national directive and developed the Canadian Physiotherapy Assessment of Clinical Performance (ACP). I enrolled myself in the HMI Systems Approach to Assessment soon after I embarked on this adventure and it was critical in helping me think broadly about this initiative. The course connected me with experts in the field of assessment and allowed me the opportunity to have one-on-one encounters with the experts. The peer consultations and large group case discussions helped me consider the important steps I would need to be successful in developing this measure.
Developing the Physical Therapy ACP consisted of four different studies including: a Delphi study with an expert consultant panel, interviews with key stakeholder groups, a national survey with practicing physical therapists requesting their input on the draft, and a pilot study across Canada. The Physical Therapy ACP is an assessment measure that describes the essential competencies (i.e., the knowledge, skills and attitudes) required by physiotherapists in Canada to be used by both PT students and their clinical instructors, to assess and describe the students' clinical performance behaviors as observed in the clinical education setting across the student's academic program. The Physical Therapy ACP assesses seven PT roles (domains and subscores), each with 1 to 8 competencies, for a total of 21 competencies. The Physical Therapy ACP is administered twice during each clinical internship in the curriculum. Based on the psychometric analyses performed from our pilot study data, we found evidence that the ACP has good internal consistency, validity, and practicality in describing PT students' behaviors in the clinical education setting.
In 2015, we starting implementing the Physical Therapy ACP and it is now being used in 12/14 physiotherapy schools across Canada. Instructors and their students complete the Physical Therapy ACP at the mid and final points of each internship. After filling out the Physical Therapy ACP, instructors meet with their students to provide formal feedback and elicit discussion about student performance and opportunities for growth and learning.
In April 2016, a web-based platform for the Physical Therapy ACP was launched, making the tool easily accessible to instructors and students. Moving forward, the web-based version of the Physical Therapy ACP will provide longitudinal national data on student performance in clinical education. Having national longitudinal data will help PT educators to make better informed decisions around clinical education and practice. This is a huge step forward and an incredible accomplishment for physiotherapy education in Canada.
I recently completed the HMI Leading Innovations Course. It was an incredibly opportunity for me to learn from others, watch others grapple with challenging concepts around disruptive innovation and what it means to 'me and my work', and consider a world filled with wonderful, innovative 'what if possibilities'.
So I offer you this one challenge: If you had the opportunity to change the world of assessment in your field what would you do? How would you innovate? How would it impact professional practice? How would it impact education practice?
Brenda Mori, BScPT, MSc, PhD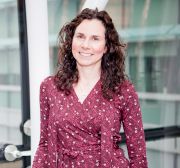 Brenda Mori (BScPT, MSc, PhD), is an Associate Professor, Teaching Stream and Director of Clinical Education and Community Affairs for the Department of Physical Therapy at the University of Toronto where she leads the clinical education curriculum for the entry level MScPT degree program.  She is also the Director of the Education Scholars Program in the Centre for Faculty Development, a joint initiative with the Faculty of Medicine at the University of Toronto and St. Michael's Hospital.