In June 2019, a postcard came in the mail from my past self. At first, I was confused to receive a photo of Boston, where I live, but I recognized my own handwriting with my favorite blue super-fine pen. It was my 6-month follow-up postcard that I had written at the Harvard Macy Institute Program for Post-Graduate Trainees.
I wish I could say that I saw it and felt excited – but I actually flipped it over without reading it and left it on the table near my front door for more than a week. I was nervous to see what I had committed to 6 months ago. During my time at the Harvard Macy Institute I was immersed in medical education, surrounded by like-minded and innovative minds as colleagues and teachers, and I was excited to move forward. When I wrote the postcard, half a year seemed like plenty of time to accomplish everything I'd planned, but now that the postcard arrived I was nervous that I might not have done everything I could.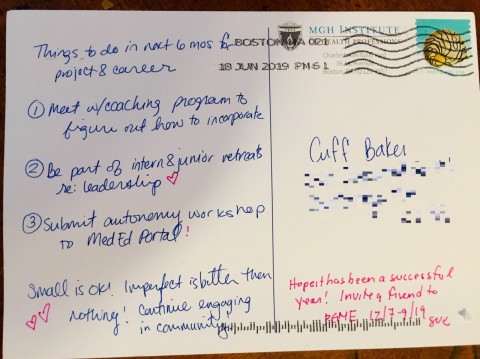 My plan to develop a leadership curriculum for the residents in my residency program came to the course in one form and left completely reconfigured, in large part thanks to the other course participants and my project mentors who supported and coached me. I finished the weekend energized to revamp and launch my plan. I had even started working with a new faculty mentor in my program on launching another new curriculum on point-of-care ultrasound. But in the next six months I also finished residency and had my first baby, so a lot of what I thought I'd get done ended up being put on temporary hold.
When I finally had the courage to read the postcard a week later, I found a few goals based on my specific project under the headline "Things to do in the next 6 months for project and career:"
Meet with coaching program to figure out how to incorporate
Be part of intern and junior retreats regarding leadership
Submit autonomy workshop to Med Ed Portal
As I read each one, I was glad that I had written these ideas down because I had already forgotten about two of them! One nice thing I had done for myself was to try to be realistic about what I could actually do and I still felt that the goals were within reach. I was disappointed that I wasn't as far along as I had hoped, though if there is anything I learned as a resident trying to do scholarly work, it is that it takes a long time to bring extracurricular projects to fruition. It felt better than I thought it would to re-visit my enthusiasm and light that spark again.
But under these goals I had written something else:
"Small is OK! Imperfect is better than nothing! Continue engaging in community!"
I paused with the postcard in my hand and spent a moment reflecting. Was I letting perfection get in the way of getting started? Did I need to continue pushing off the launch of this project so I could continue refining our research plans? If the project wasn't completely comprehensive and transformative, would it still be worthwhile?
These small notes illuminated some of the obstacles I had placed in my own path. I have learned from prior efforts that the best projects need to be grounded in pre-work. Perhaps I let the pendulum swing too far from my medical school days when I did not worry too much about a thorough literature review, a deep and wide-ranging needs assessment, and an airtight plan for measurement with meaningful outcomes. The Harvard Macy Institute reinforced the importance of these elements – but also encouraged me to experiment and look for ways to evaluate and disseminate the work I was doing.
I put the postcard down and left the house feeling lighter. Within a few weeks I had planned a few sessions to begin the ultrasound curriculum I had been thinking about, and when I got caught up thinking about how it might not be big enough, or was not perfect enough, I repeated my new mantra: Small is OK! Imperfect is better than nothing!
The last part of the mantra reminds me to continue engaging in the medical education community, so I am asking the health professions education community here: what postcard mantra keeps you moving forward? Comment below and join the conversation!
Did you know that the Harvard Macy Institute Community Blog has had more than 190 posts? Previous blog posts have explored topics including reflecting upon my Harvard Macy journey, once a scholar forever a scholar, and joining the HMI system – a community of learning.
Arianne "Cuff" Baker, MD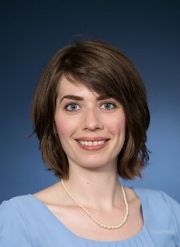 Arianne "Cuff" Baker, MD (Program for Post-Graduate Trainees '18) is a pediatrician and medical educator. Cuff currently holds a position as Chief Resident in Pediatrics at Massachusetts General Hospital. Cuff's areas of professional interest include leadership, autonomy, and curricular development. She can be reached via LinkedIn or email.