Welcome to 2016! We here at the Harvard Macy Institute (HMI) are excited about what's in store for the coming year. Read on for 5 new HMI ventures to watch out for:
1. We have a new website! We have been working on the new site with talented web developer Todd Williams. Our new site is configured for mobile and holds all of our course materials – no more big red binders to lug around Boston. It also hosts the HMI Blog, which you are reading right now. But we are most excited about HMI Community (we are still migrating all of our data into this new site), a feature that lets scholars and alumni connect with each other on our secure social platform. You can update your profile, friend or follow other scholars, and form groups to network, collaborate, or simply stay in touch after leaving Boston. Stay tuned for more new features, like our video library (see #3 below), and don't hesitate to give us feedback on the new site.
2. We have gone social! Our virtual community on Twitter, Linked In, and Facebook is growing and we have enjoyed connecting with people from around the world on these platforms. In case you were wondering who is "speaking" for HMI on these sites, it's us – Holly Gooding (Educators '10) and Todd Fowler (HMI's Program Manager). We are constantly looking for updates and accolades about our alums as well as interesting articles on education to share with all of you. Please send these our way! To read more about why we have boldly jumped into the waters of social media, check out our first blog post From Digital Dinosaur to Social Media Savant: HMI's New Adventure. For help joining the conversation on any of the social media platforms, watch 3 Quick Videos to Get You Better Connected to Harvard Macy.
3. We are launching a library of videos with world-class leaders in education. We were inspired to create these for our community after learning about OpenPediatrics' World Shared Practice Forums. Created by HMI alumna Traci Wolbrink and colleagues, these monthly videos feature international critical care experts and allow users from around the world to discuss current issues and share best practices. Our first video will feature Neil Mehta, Assistant Dean for Education Informatics and Technology at the Cleveland Clinic Lerner College of Medicine and course director for our Technology in Health Care Education course. Future videos will feature esteemed HMI faculty and allow our on-line community to comment and ask questions about their area of expertise.
4. We are introducing a new theme on the Science of Learning throughout our courses. Our courses have always been evidence-based and have featured cutting-edge research from a variety of fields like psychology and business in addition to education. Last year we piloted a new set of sessions in the Educators course drawing explicitly on findings from cognitive psychology that are proven to improve learning – concepts like retrieval practice, the spacing effect, and interleaving. This year we are expanding this theme to include findings from a broader array of sciences, such as anthropology and sociology, and will be working with all course directors to further build this theme for each course's unique focus.
5. We have increased our educational research methods offerings. We have added an optional one-day course in qualitative research for health professions education, occurring immediately before the May session of the Educators course. Taught by Subha Ramani, Director of Evaluation for the Internal Medicine Residency Program at Brigham and Women's Hospital, this course provides hands-on experience working with qualitative data like one might find in course evaluations, portfolios, or focus groups. We have also added Emil Petrusa to our teaching faculty; Emil will lead sessions on quantitative research methods, informed by his work as Educational Research Specialist for the Mass General Department of Surgery.
That's just a taste of what's in store for Harvard Macy in 2016. We hope you will join us, either in person in Boston for one of our courses or on-line by engaging with us on this blog or on social media. Applications are still being accepted for Leading Innovations in Health Care and Education course (due February 21st) and Health Care Education 2.0 – Transforming your teaching for the digital age (due June 23rd).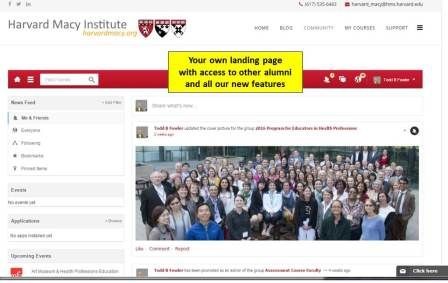 Holly Gooding, MD, MSc
Holly Gooding, MD, MSc is Associate Professor of Pediatrics at Emory University School of Medicine and Co-Director of the Program for Educators at the Harvard Macy Institute.  She is also Medical Director of the Adolescent Medicine practice at Children's Healthcare of Atlanta. Her research and educational interests are in the promotion of healthy development during the transition to adulthood.  In her spare time she enjoys biking with her family in Atlanta.