I traveled to my first Harvard Macy Institute leadership course in 2004 as a pathology course director from the Marshall University Joan C. Edwards School of Medicine (JCESOM), a small, community-based medical school located in the heart of rural Appalachia. It was at this time that my life pivoted, redirecting to a mindset that saw opportunities instead of obstacles and dreams bigger than myself.
On my initial visit to HMI in 2004, I brought the intention of creating an academy of medical educators. By the end of the year, the academy was established and sustained over the next ten years, simultaneously empowering faculty and meeting institutional goals and accreditation standards. With this success in mind, I continued forward.
Most recently, I was offered the opportunity of creating a journal by the Dean of Marshall University's JCESOM. At the time, I did not realize the magnitude of the task ahead of me. However, I did fully embrace the significance of creating a publication from a small, community-based medical school in West Virginia intended for a worldwide audience.
I knew there was a "job to be done." I began by utilizing core principles of HMI: building the right team, taking the system based approach, and adding "value added "component to it. Hitting the ground running, I established the purpose of the journal: promoting both excellence in the practice of Appalachian rural health medicine and the knowledge, attitudes, and practices of all aspects of comprehensive health care. With the help of a great team, I was able to launch West Virginia's first online, peer-reviewed open access academic medical journal published by a college or university, the Marshall Journal of Medicine (MJM) http://mds.marshall.edu/mjm/
MJM is now providing an avenue for sharing experiences in the delivery of health care in rural, Appalachian populations and promoting scholarly conversation on this topic. The Journal has recently celebrated its first year of quarterly publication. I am exceptionally proud of each issue and the reach that MJM has already celebrated (Marshall Journal of Medicine-readership distribution map). Within our first year, MJM has created excitement and enthusiasm for showcasing scholary contribution on a global platform.
As MJM was created, in part, to further dialogue, I'd like to continue the discussion below.
1. A small medical school in rural West Virginia launched an academic journal. Is this disruptive to academic publishing?
2. If so, what benefit do you see of such disruption?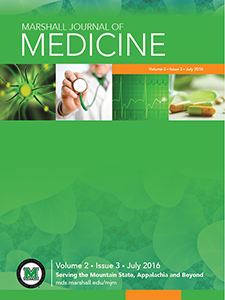 Darshana Shah, PhD

Darshana Shah, PhD. (Leading Innovations in Healthcare and Education, 2004) is Professor of Pathology and Associate Dean for the Office of Faculty Advancement at the Marshall University Joan C. Edwards School of Medicine. She is the Founding Editor-in-Chief of the Marshall Journal of Medicine (MJM) Darshana's areas of professional interest include faculty vitality and retention. You can follow her on LinkedIn or Twitter @DarshanaShah.