Early in the development of our osteopathic medical program we described the challenges in initially supporting service medical trips abroad that involved the participation of our medical school faculty. We designated these activities typically known as "Mission trips" as opportunities in Gιobal Outreach-based Activity Learning (GιOBAL). We coined the term "GιOBAL" because these outreach-based activities are a form of experiential learning. These experiences can include unique situations that may differ from those of local or domestic service-based learning or community-based learning opportunities because the learning by the student physician occurs in a foreign country with unfamiliar customs and traditions. In a comparable manner an International Medicine Elective Clerkship Rotation can be a rich experience because by rotating outside of the United States medical students can have the unique opportunity to see the practice of medicine in a setting that will be different, both culturally and medically, from what the student may experience during traditional medical training in the United States.
In the developing world, for example, students of the health sciences professions will see tropical diseases, severe nutritional deficiencies, and other illnesses common to the area, but which may be less common in the Unites States. During a GιOBAL activity, as faculty mentor, I had the opportunity to accompany a group of students as they visited various rural clinics in Ecuador in 2015. The camaraderie between both participating domestic healthcare workers and visiting medical students from the United States led to constructive dialogues about the different healthcare systems. Participating medical students described the unique opportunities for learning about indigenous medicine as well as traditional non-western approaches to healthcare. Students completing rotations abroad may be confronted with different cultural and health attitudes, and there can be numerous opportunities to gain meaningful appreciation of the difficulties of life and medical practice in the many medically underserved areas of the world. A student member of our founding class, who had traveled to Uganda in 2017 to complete a medical elective shared the unique experience of submerging in the culture and community. A 4-week rotation was not sufficient as she was just beginning to appreciate the dynamics of the community towards the end of the rotation which led her to apply for and complete an additional 4-week elective at the same site. She returned to the USA the weekend before her graduation and went on to successfully complete a residency in Obstetrics and Gynecology.
Knowing the challenges of foreign travel and appropriate preparation to visit a specific country can be valuable experiences. Gaining understanding of the language and the types of medical needs in a foreign country can be helpful when treating patients from diverse ethnic backgrounds. Unfortunately, medical student participation in Global Health activities has decreased over the past decade (see figure) even when matriculating medical students expressed interest in participating in such activities. A decade ago, the Matriculating Student Questionnaire asked medical school matriculants the following: What types of non-classroom experiences do you expect to participate in: Global Health education or service (♥) as shown on the figure was high ( > 60 %). The question was discontinued in 2013. The All-Schools Summary Report Medical School Graduation Questionnaire asks medical graduates: Indicate the activities you will have participated in during medical school on an elective (for credit) or volunteer (not required) basis for a global health experience (●). Over the past decade the data demonstrate a continuous decline in participation in Global Health and/or International Volunteer Experiences.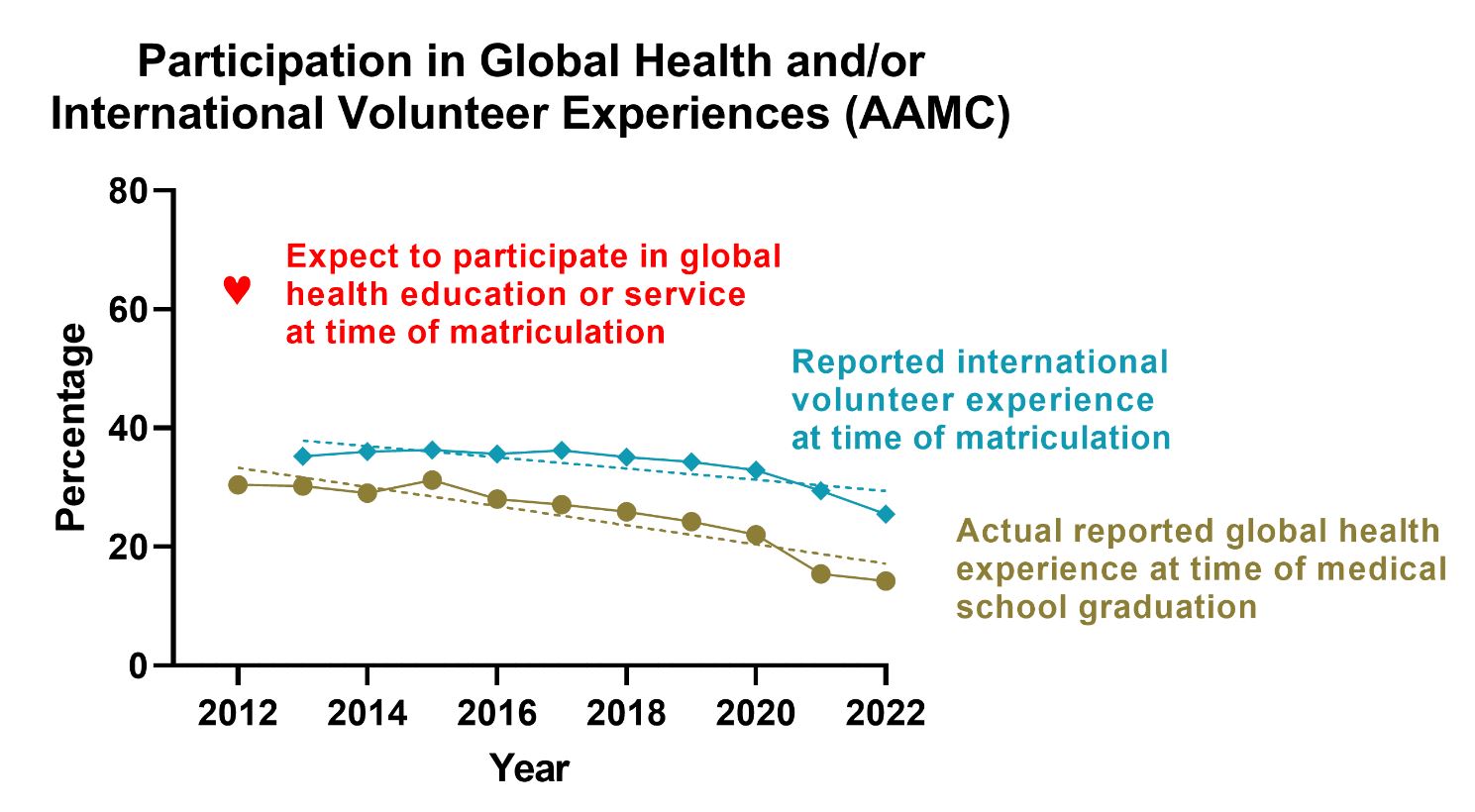 Table created by Mark Hernandez using data from the All-Schools Summary Report Matriculating Student Questionnaire.
The pandemic highlighted the need for the globalized and humanitarian physician as described a decade ago by Rowson et al. in the medical curricula. Medical Schools across the USA can do more to promote student participation in international electives and clerkships by engaging with and supporting more global health advocacy student clubs, supporting faculty travel abroad, and creating more opportunities for partnerships and institutional alliances. Educators of the health sciences professions can develop creative and innovative strategies which create learning opportunities for the medical student. The most important question of why there has been a decline in participation in Global Health related activities is unclear. As international borders closed around the world and travel was suspended during the early stages of the COVID-19 pandemic some suggested these measures hampered the overall response to the pandemic. Although it was questioned whether international medical electives should continue during the early part of the pandemic it was reconciled that these are essential parts of medical education, and in a globalized and interconnected world more opportunities for our students to participate in those activities should be encouraged. Medical programs and health science educators need to develop more innovative opportunities for Global Health education and support our medical students who express interest in outreach activities and International Medicine Elective Clerkship rotations.
Did you know that the Harvard Macy Institute Community Blog has had more than 335 posts? Previous blog posts have explored topics including incorporating community-engaged practices into curricula, glocalization for health professions education, and medical education and global health.
Mark Hernandez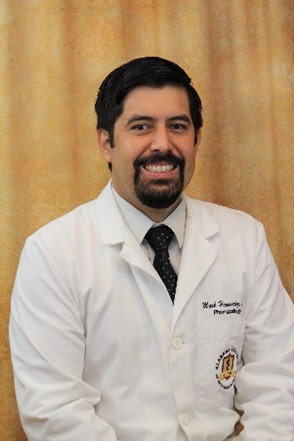 Mark Hernandez MS, PhD (Educators '22) is a Professor of Physiology and Pharmacology and a Founding Faculty Member at the Alabama College of Osteopathic Medicine. Mark's areas of professional interest include Global Health and Medical Education. Mark may be followed via
LinkedIn
.