At the onset of the pandemic in New York City, our medium sized midtown hospital exhausted our meager stockpile of personal protective equipment (PPE) faster than a forest fires ravages. One reason briskly identified was the failure to cohort COVID-19 patients on a single floor. The other more important cause was that medicine teams in our hospital have patients scattered throughout the hospital in a non geographic model across 4 different floors. Within 2 weeks, administration and hospital medicine leadership developed a geographic model. We started cohorting all COVID-19 positive patients on separate floors from negative patients. A geographic physician team model was also developed, which allowed physicians and nurses to don and doff at the entry and exit of each COVID-19 unit.
After the pandemic surge, hospital medicine and internal medicine residency program leadership made the collective decision to continue the geographic model for inpatient care. Care providers enjoyed working in a unit based model, and noted increases in efficiency while rounding. Each of our 4 medicine floors has 36 to 40 beds, with variable occupancy. We restructured our resident teams and physician assistant teams by geography. Our outgoing chief residents led the change in May, designing a resident schedule to accommodate for a resident on each team to be available to admit and provide coverage until 8 pm each evening on their respective floors. The hospital medicine leadership put together a committee comprising representation of all stakeholders in this large transition of systems- attending hospitalists, physicians assistants, chief residents, nurse managers, bed assignment and administration. Since the transition and resumption of normal inpatient activity, we have encountered and addressed multiple concerns. Some notable hurdles in this transition included the high throughput on our telemetry team, movement of patients by bed board or nursing without involving the physicians in the decision, variable nursing staffing that impacts teaching team caps due to geographic model.
This transition is very much still a work in progress, yet some benefits are already obvious. It has made bedside rounding more appealing and uncomplicated. Physicians in training learn very well at the bedside by role modelling. Greater acceptance of bedside rounding also affords the opportunity to teach physical exam skills, a dying art amongst newer generations of doctors. Another large gain is being able to involve nursing in bedside rounds, discussions and decision making. Finally, coordination with ancillary staff including social work, case management has become seamless as a result of having an entire floor to ourselves. In summary, the silver lining of this pernicious pandemic at our hospital has been a transition to a geographic model for inpatient care. This is considered to be the gold standard for inpatient care across multiple healthcare systems. At our medium sized midtown NYC hospital, we hope to continue to refine this geographic model of care and the next steps would involve developing capabilities with flex acuity beds on each unit so that no matter what the patients need they can stay in one place.
COVID-19 challenged our organization and forced us to adapt quickly and efficiently. How did your organization adapt as a result of COVID-19? Comment below and join the conversation!
Did you know that the Harvard Macy Institute Community Blog has had more than 265 posts? Previous blog posts have explored topics including engaging students virtually, training with mental practice during COVID-19, and being together, when apart.
Vasundhara Singh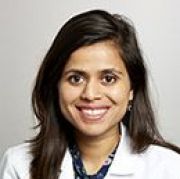 Vasundhara Singh, MBBS, MD (Educators '20) is an Associate Program Director and Internal Medicine Hospitalist at Mount Sinai West and Assistant Professor at the Icahn School of Medicine. Vasundhara's areas of professional interest include graduate medical education and high value care. Vasundhara can be followed on LinkedIn or contacted via email.